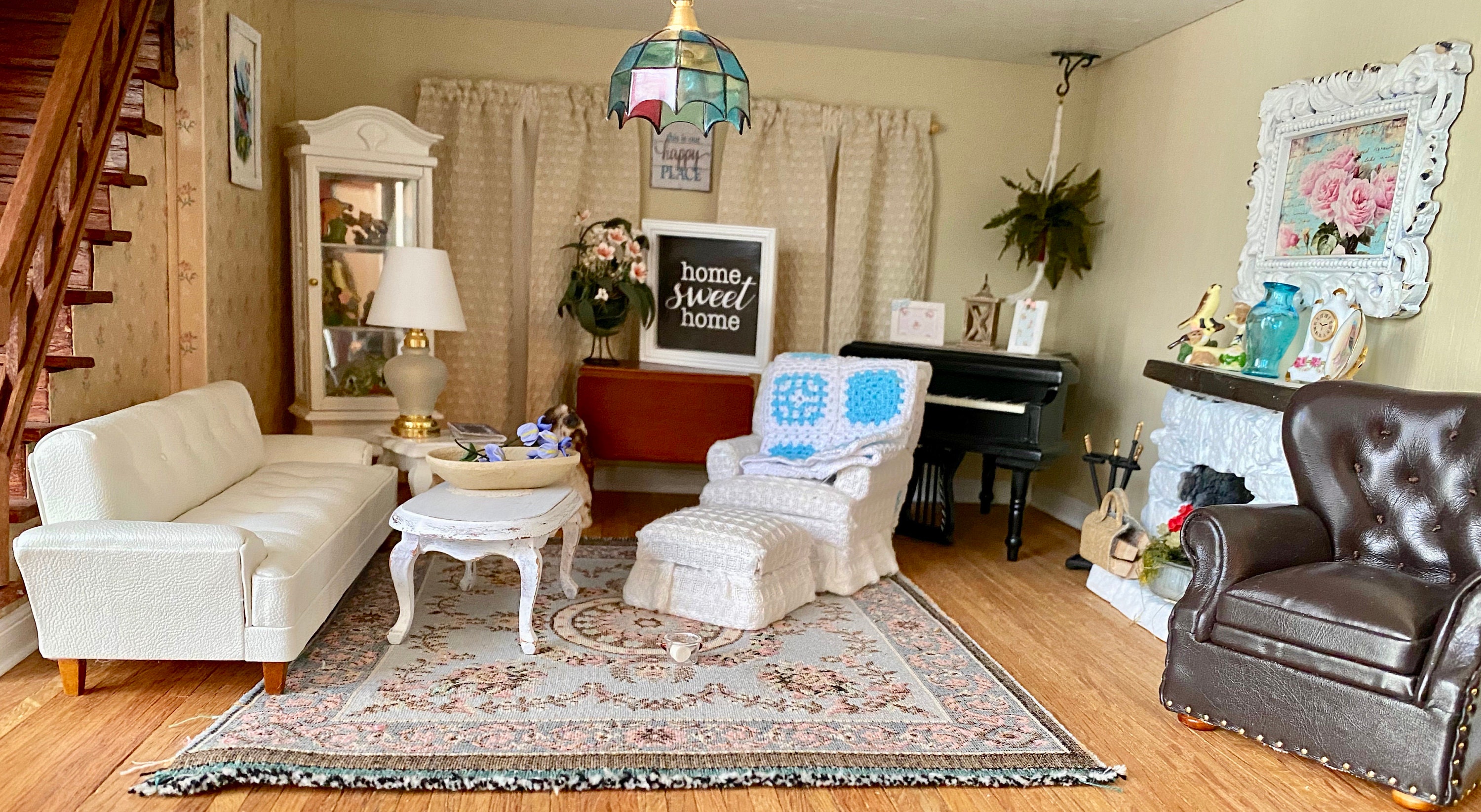 Today a customer asked if I had full room pictures of my dollhouses or if I just used shadow boxes. I realized it's been quite awhile since I've taken pictures of the dollhouses and when you see the photos you only get glimpses into the rooms. I posted photos several years ago of my first "big girl" dollhouse, but lots has changed since them. For Bitsy Nest Shop photos (and for myself to decorate and play with), I currently have 3 large dollhouse and 3 decorated shadow boxes I use. Occasionally I will set up a temporary area or shadow box, but for most photos I use rooms in the houses or the shadow boxes. So come on in and take a peek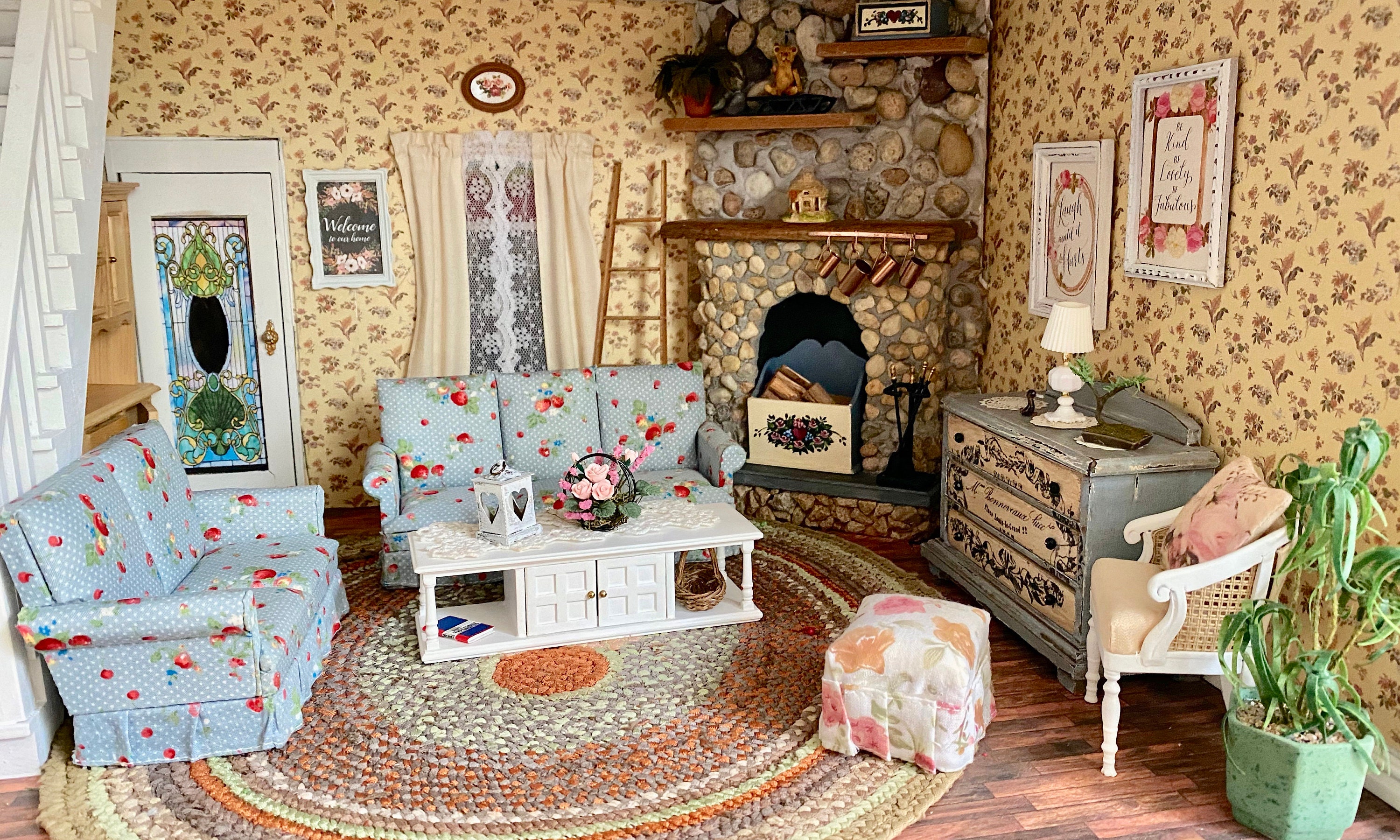 This is the living room of dollhouse #2. The Blue and Red furniture are pieces I offer in the shop whenever I can get them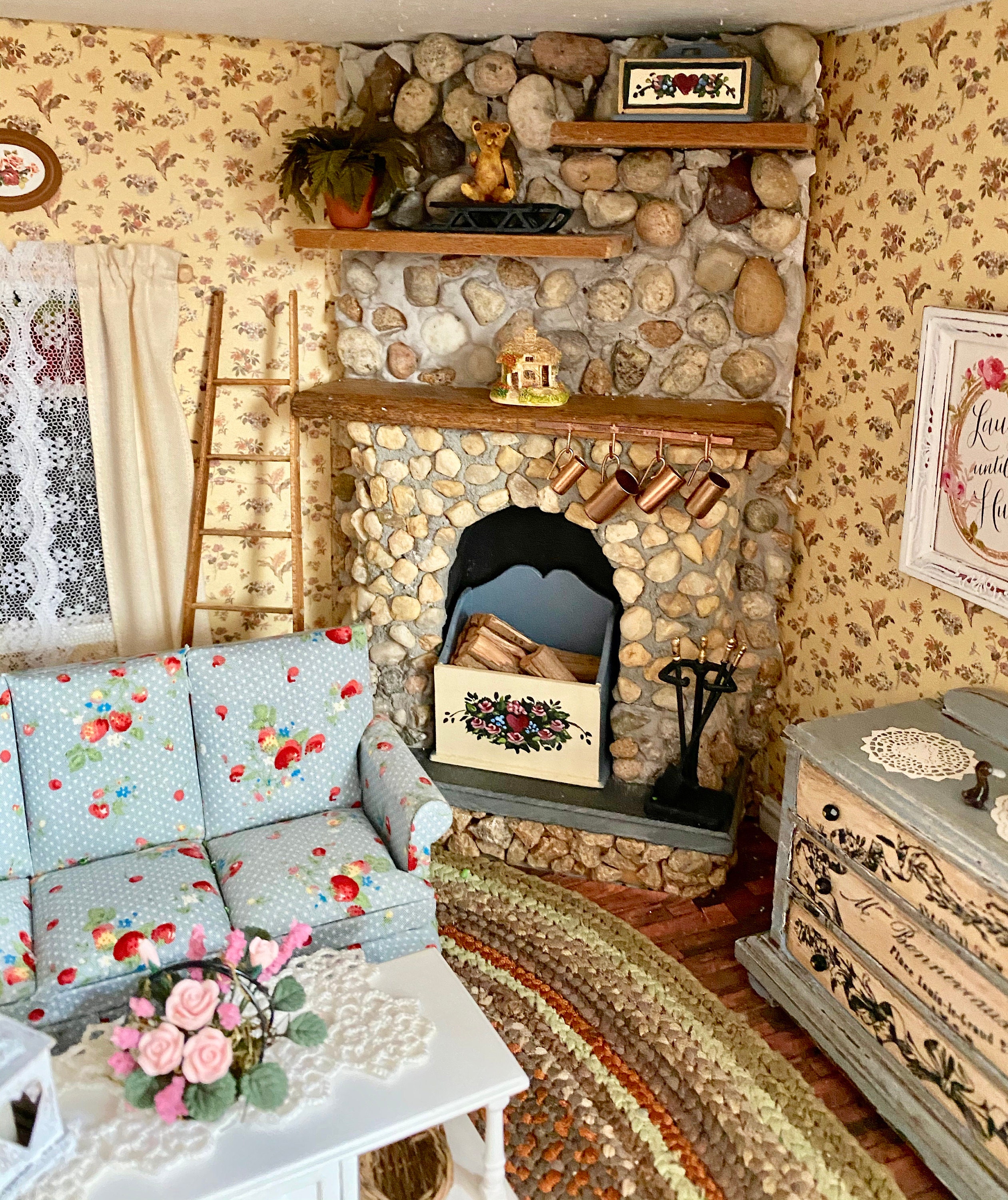 In this room, my favorite pieces include the handmade stone fireplace and the distressed hand painted artist dresser on the right. I also love the handmade vintage rug.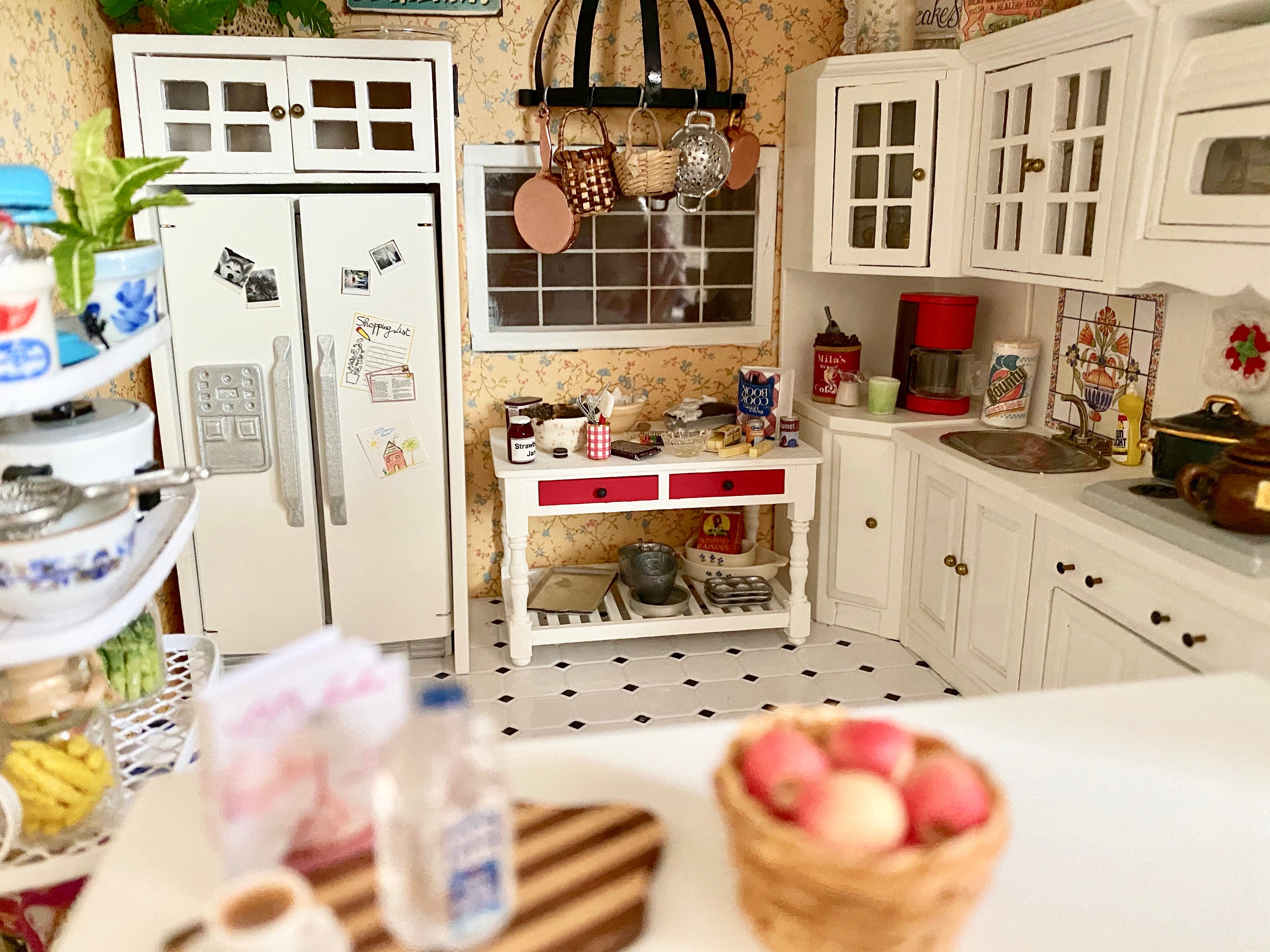 This kitchen appears in lots of Bitsy Nest photos. It's big and bright and I can't stop looking for cute miniture food and kitchen items.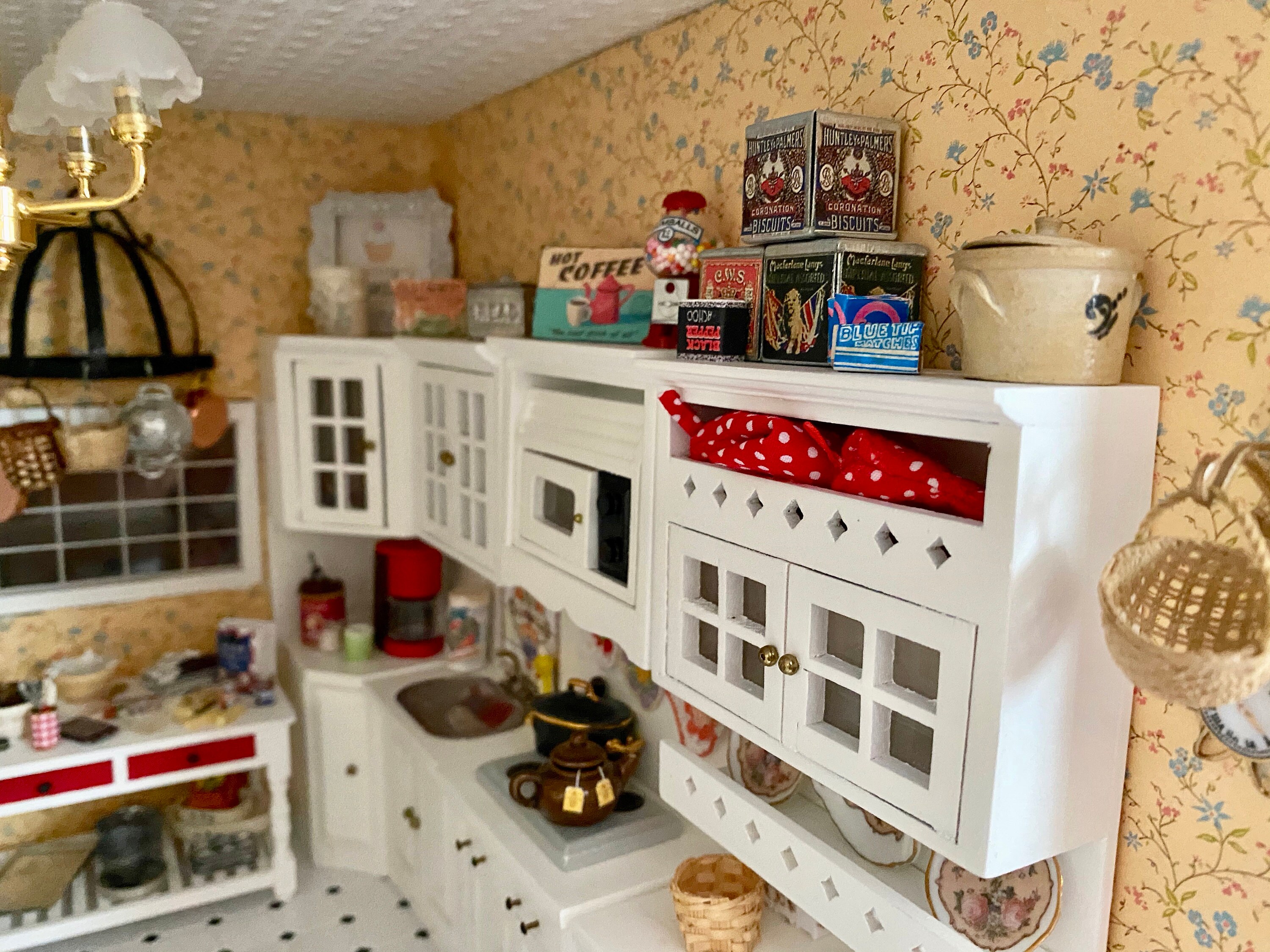 Favorites in here include the coffee pot in the corner (corner it isn't a very good photo) several vintage pieces on top of the cabinets and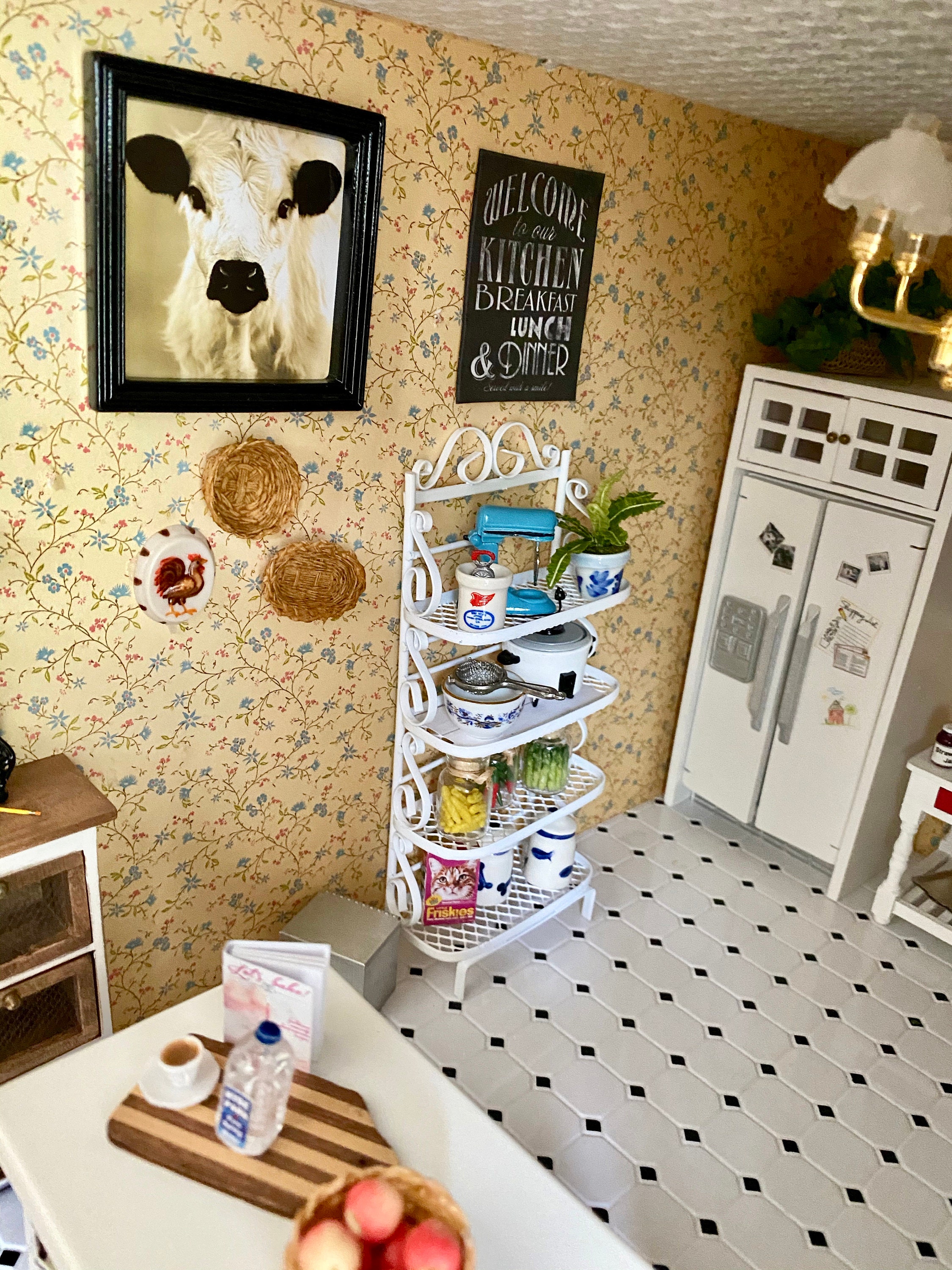 my baskets, handmade vegetable bin and new cow picture. Like our homes, our dollhouses usually reflect our personalities and hold miniature items similar to items we or our loved ones had in their homes that bring back comforting or happy memories.I have a huge cow picture in real kitchen so I had to have this mini when I saw it.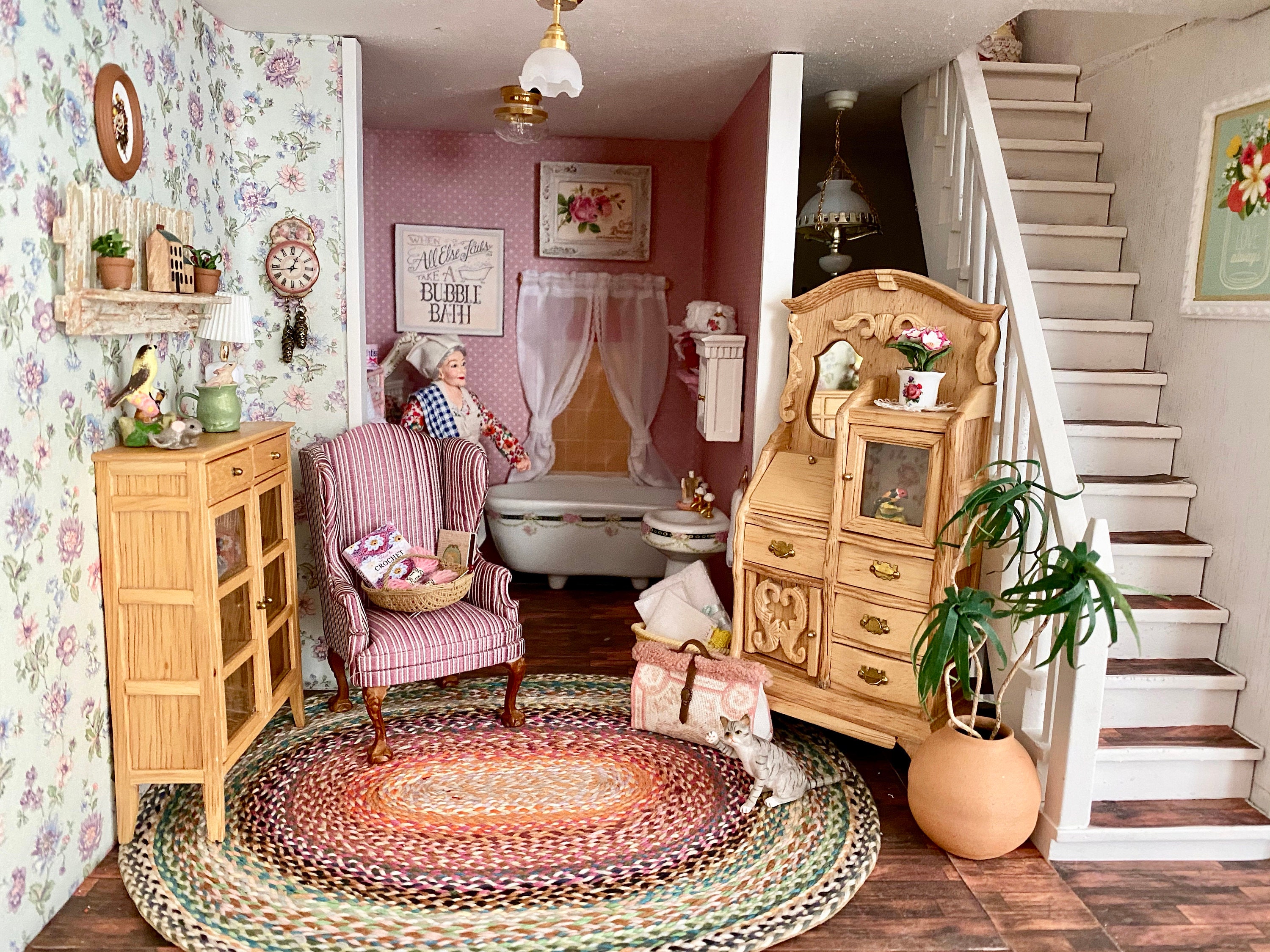 This little room is directly above the kitchen. You can see the pretty bathroom in the back but it's hard to take pictures in there so you'll just have to peek through the door to get a glimpse.  I love the two oak pieces in this room and didn't really have another spot for them so here they sit next to a comfy chair and cute cat. On the chair sits my crochet just like it does here in my real home.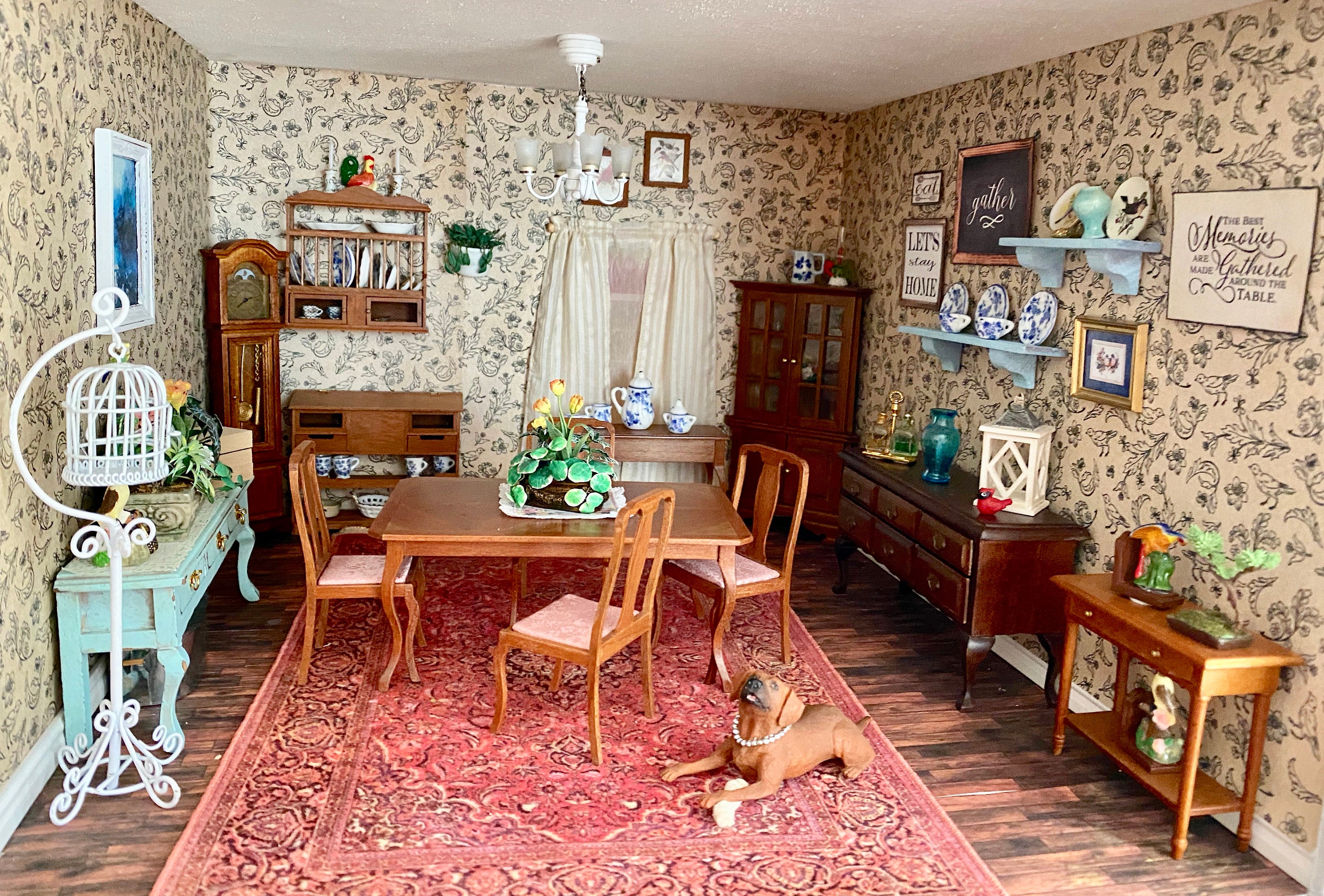 The formal dining room doesn't get used that often, but the furniture in this room is also handmade and my favorite mascot dog likes to spread out of the rug in this room. This sweet dog is another item I try to offer in the shop whenever I can.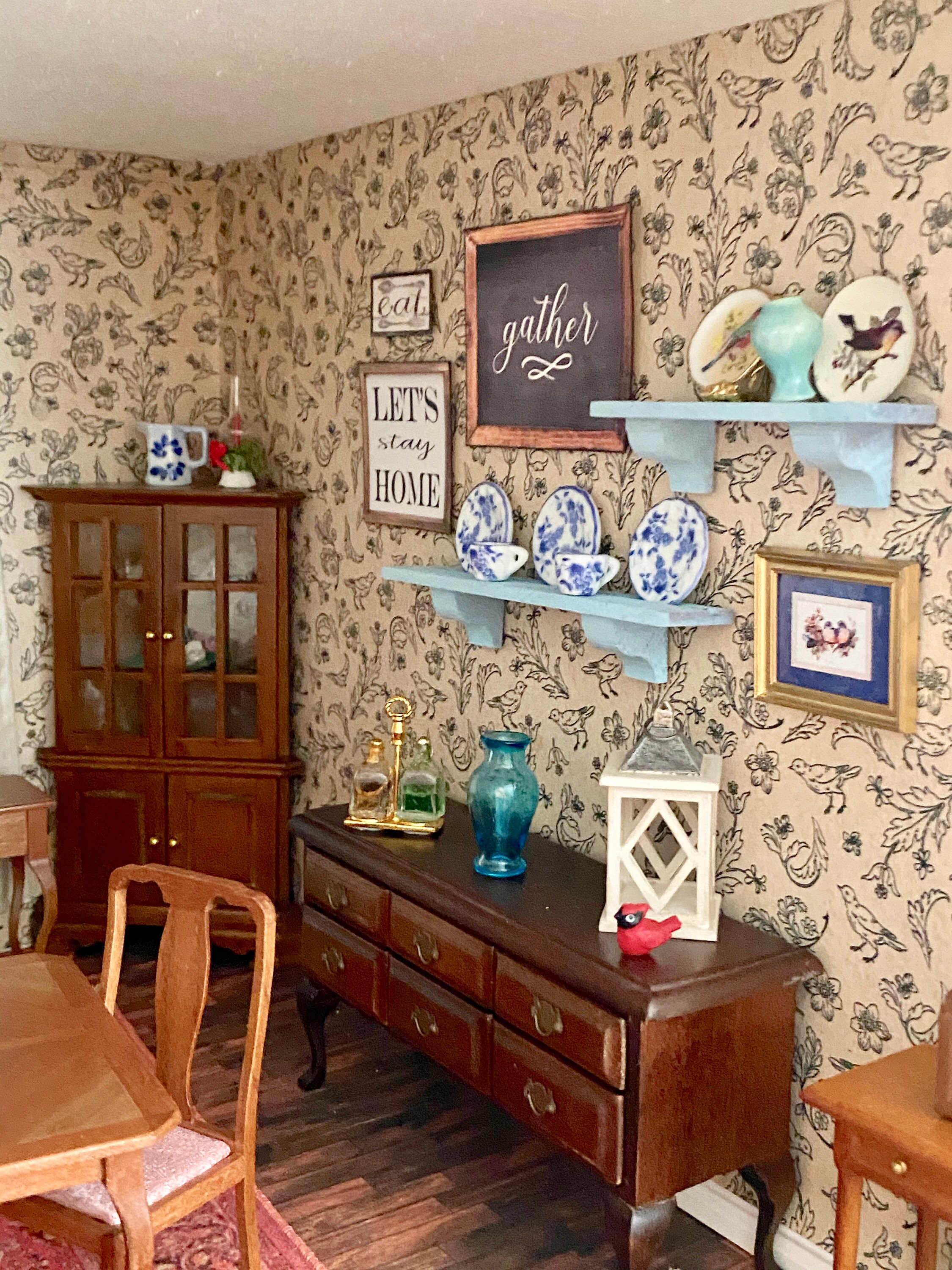 If you can't tell yet, I like birds alot. Almost all the rooms in my houses hold a little bird, cage or bird picture. In my real home, I have 2 zebra finches (Chandler and Joey) who chirp and sing all day while I work. The sweet bird plate on the shelf is another item I offer in the shop.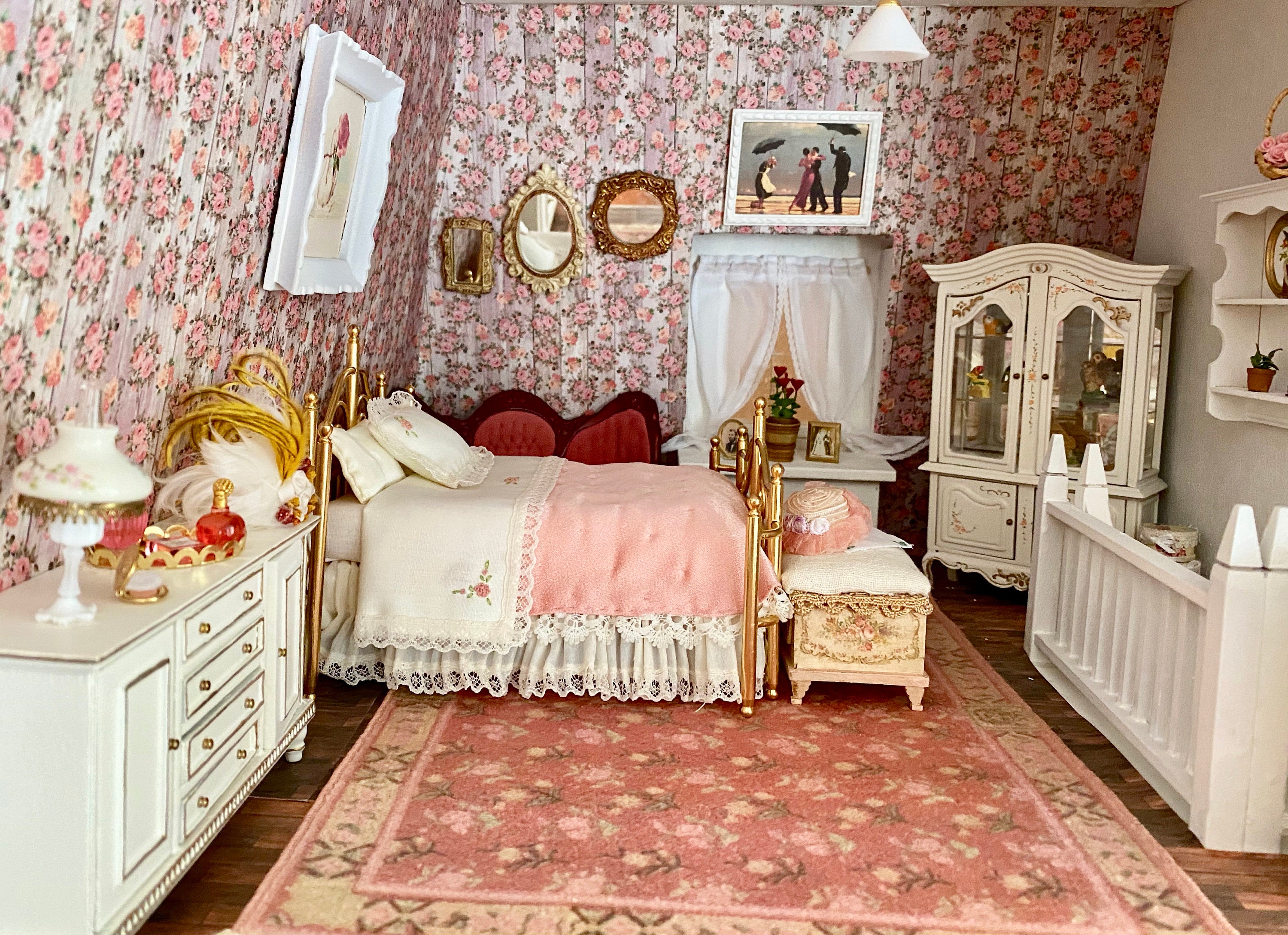 In the master bedroom of this house, there is a pretty vintage brass bed with handmade bedding, a dresser and glass door cabinet with tiny hand painted roses, a beautiful hand painted distress trunk and another favorite picture "Butler singing in the rain".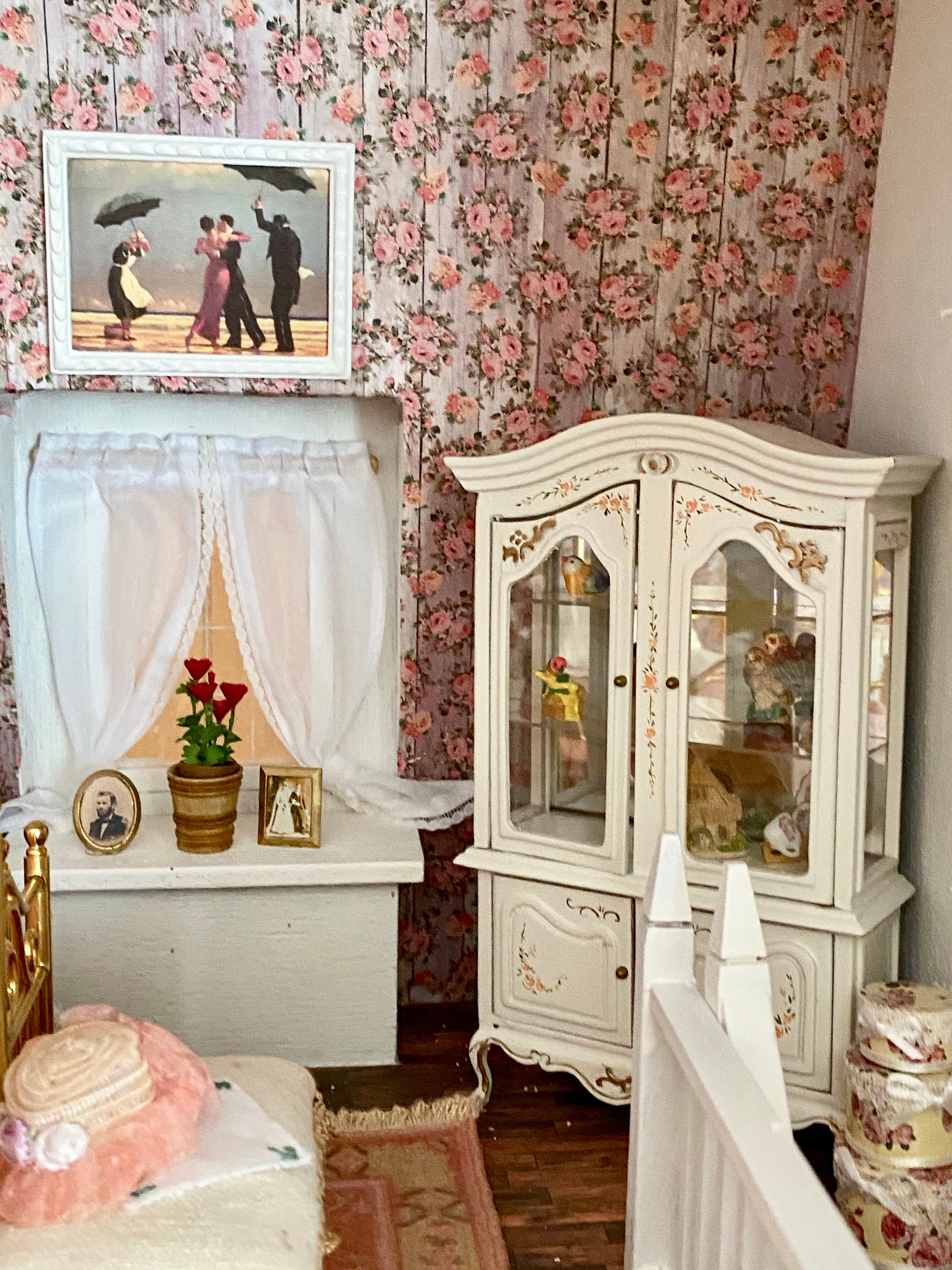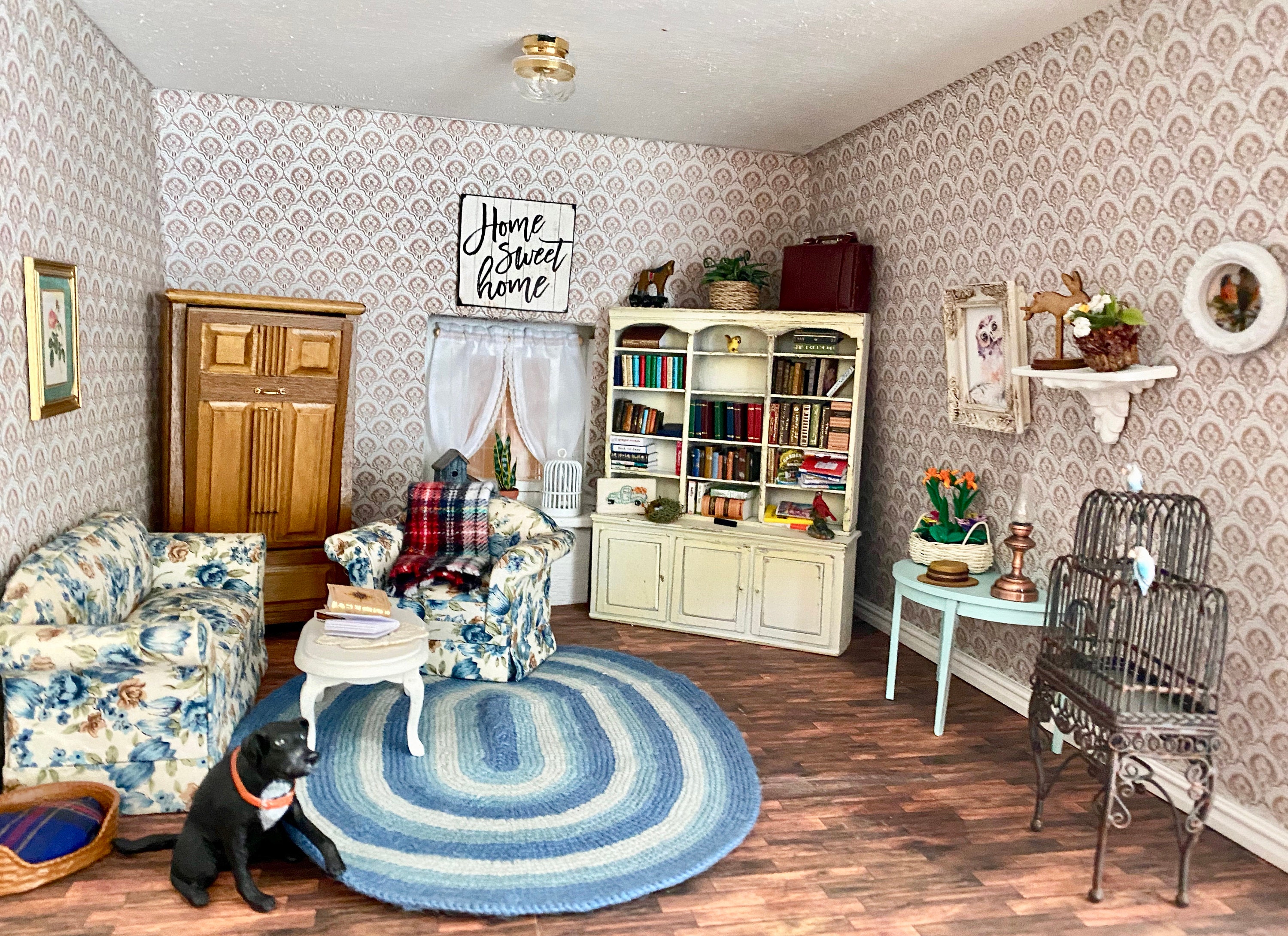 Next to the master bedroom is what I call the den or library. One of my favorite bird cages sits here along with a big distressed painted bookcase. In the left corner is a Murphy bed for company and another one of my dogs has found his way up here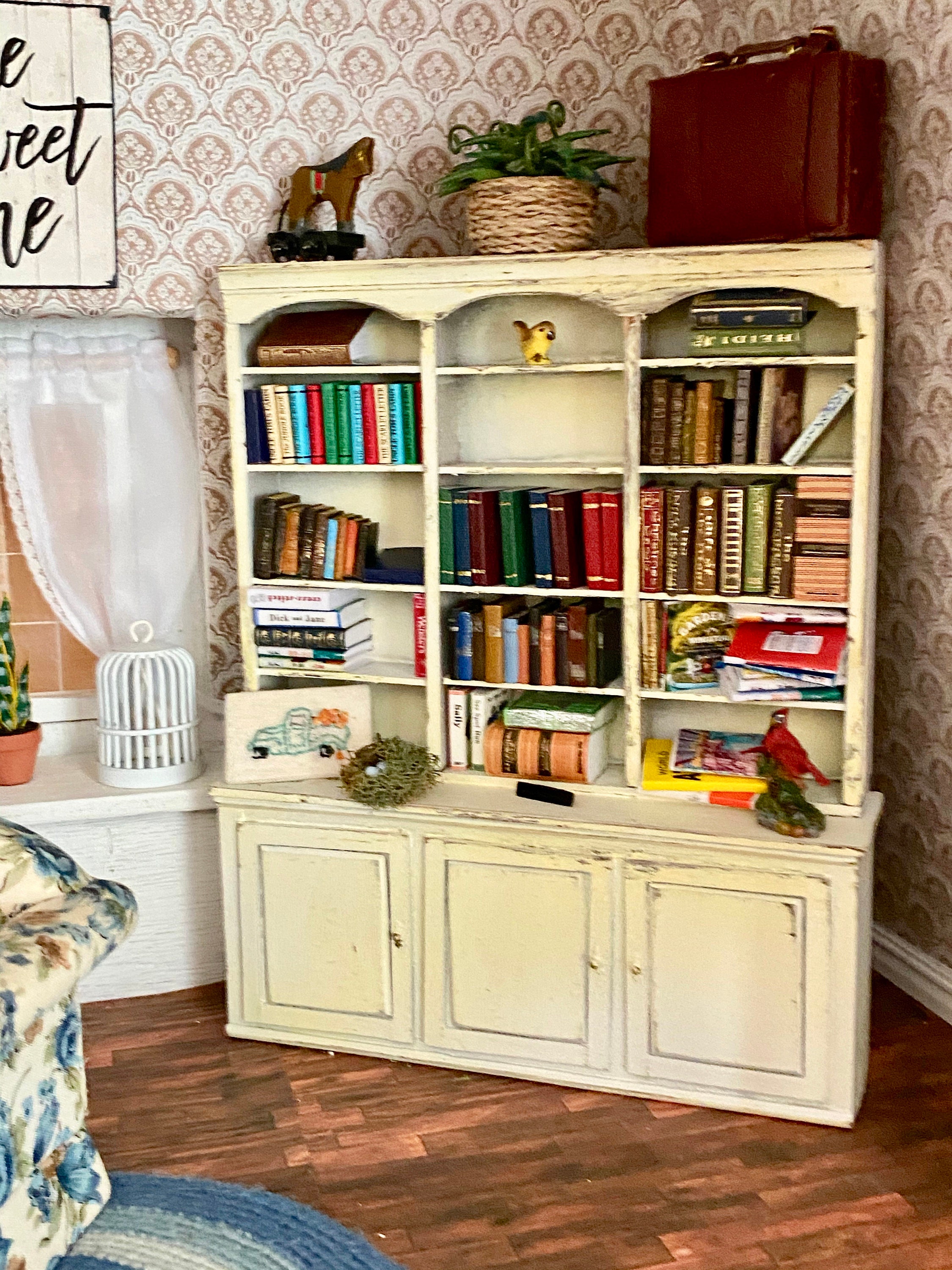 Just noticed books are missing from one of the shelves, wonder what room their hiding in.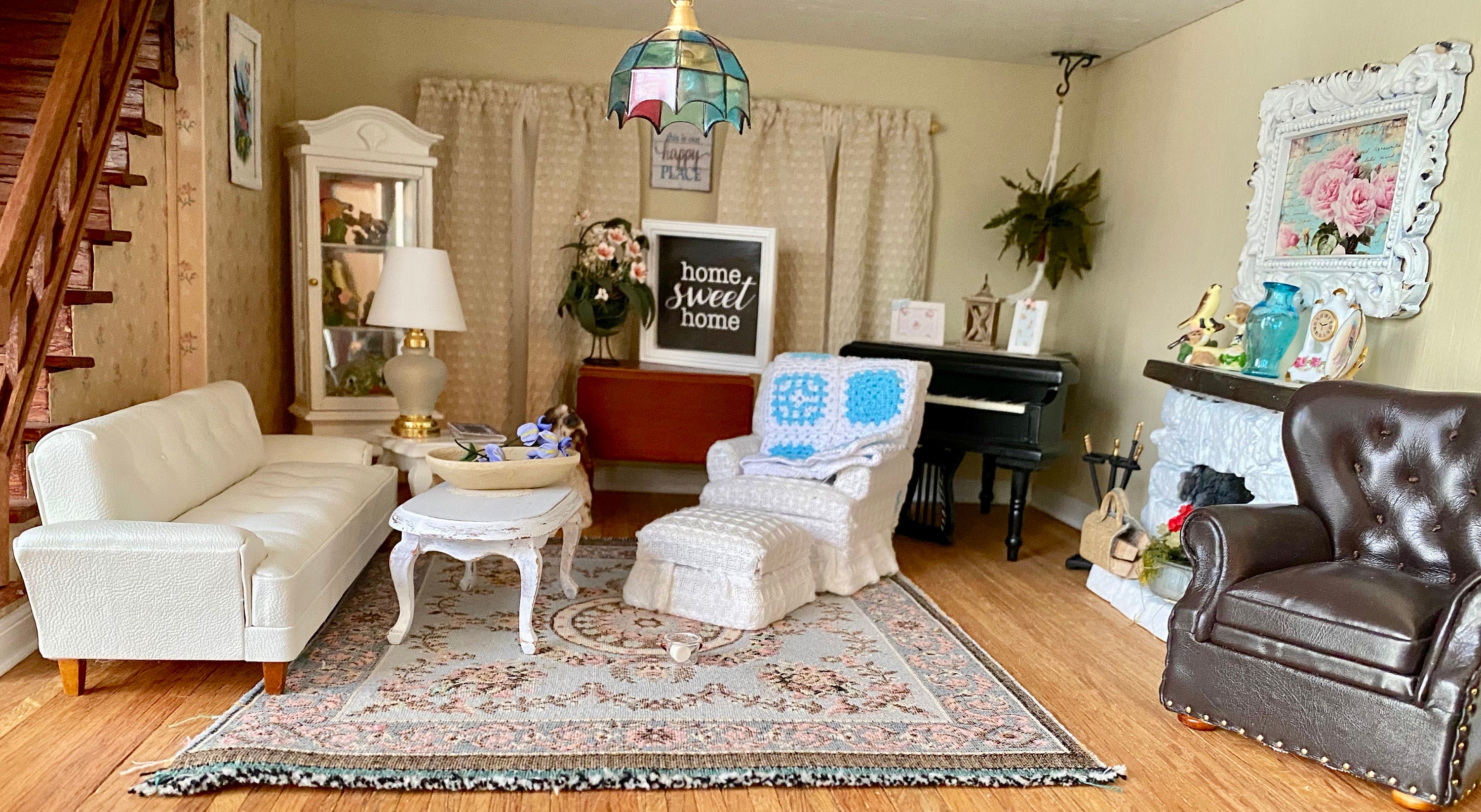 Back at dollhouse #3. In this room sits my treasured Hoover style sofa and pretty mirrored back cabinet. The hanging light doesn't really fit in here anymore, but since it's been there since I got the house, I haven't had the heart to take it down yet, maybe tomorrow.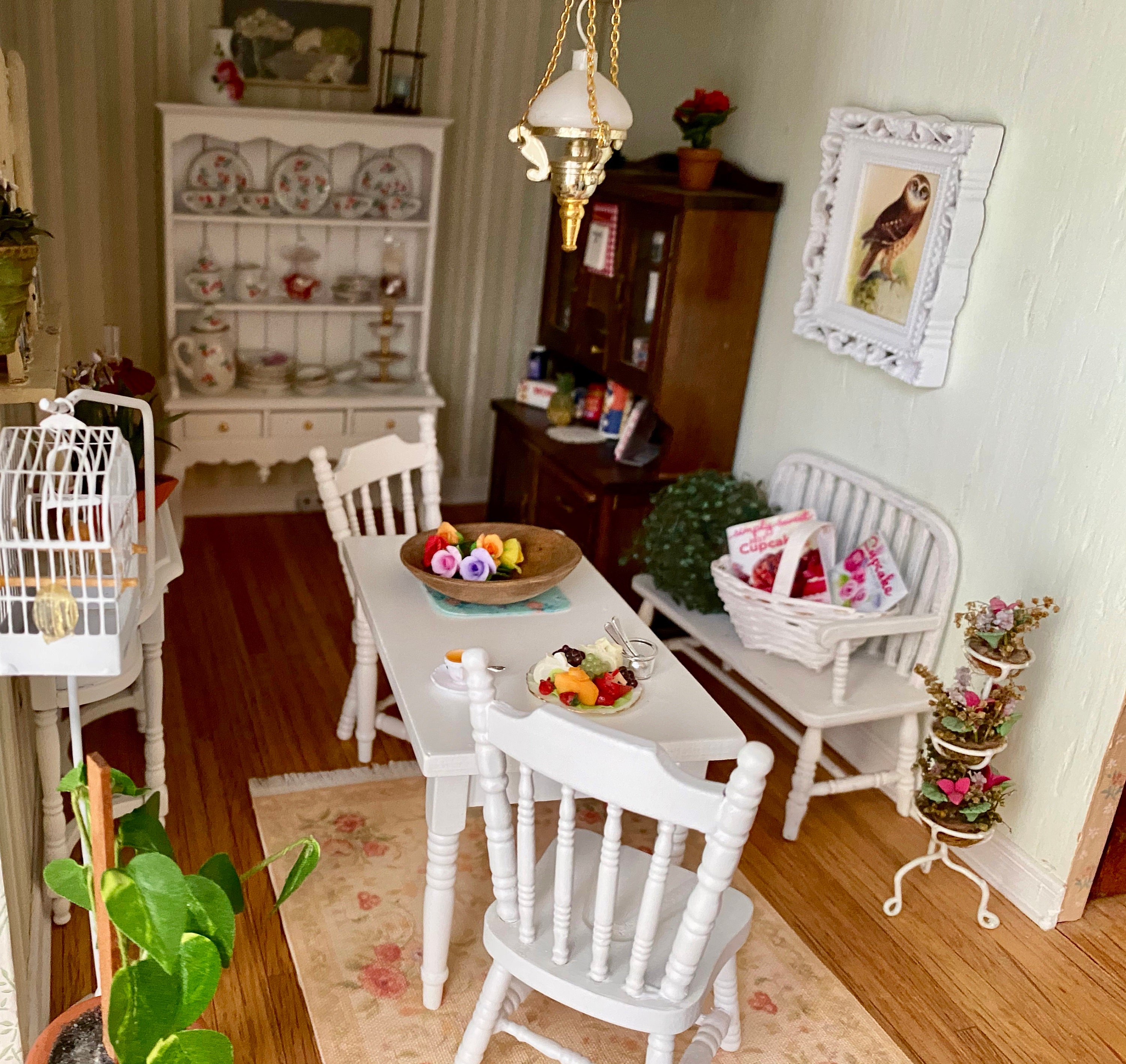 This sweet dining area is next to the living room. There are lots of favorites in here as well. Like the distressed bench, handmade wreath, bird cage complete with birds and tiny watering/food dishes. The brown flour bin cabinet on the right is  filled with vintage kitchen items and even has a metal pull out flour storage drawer.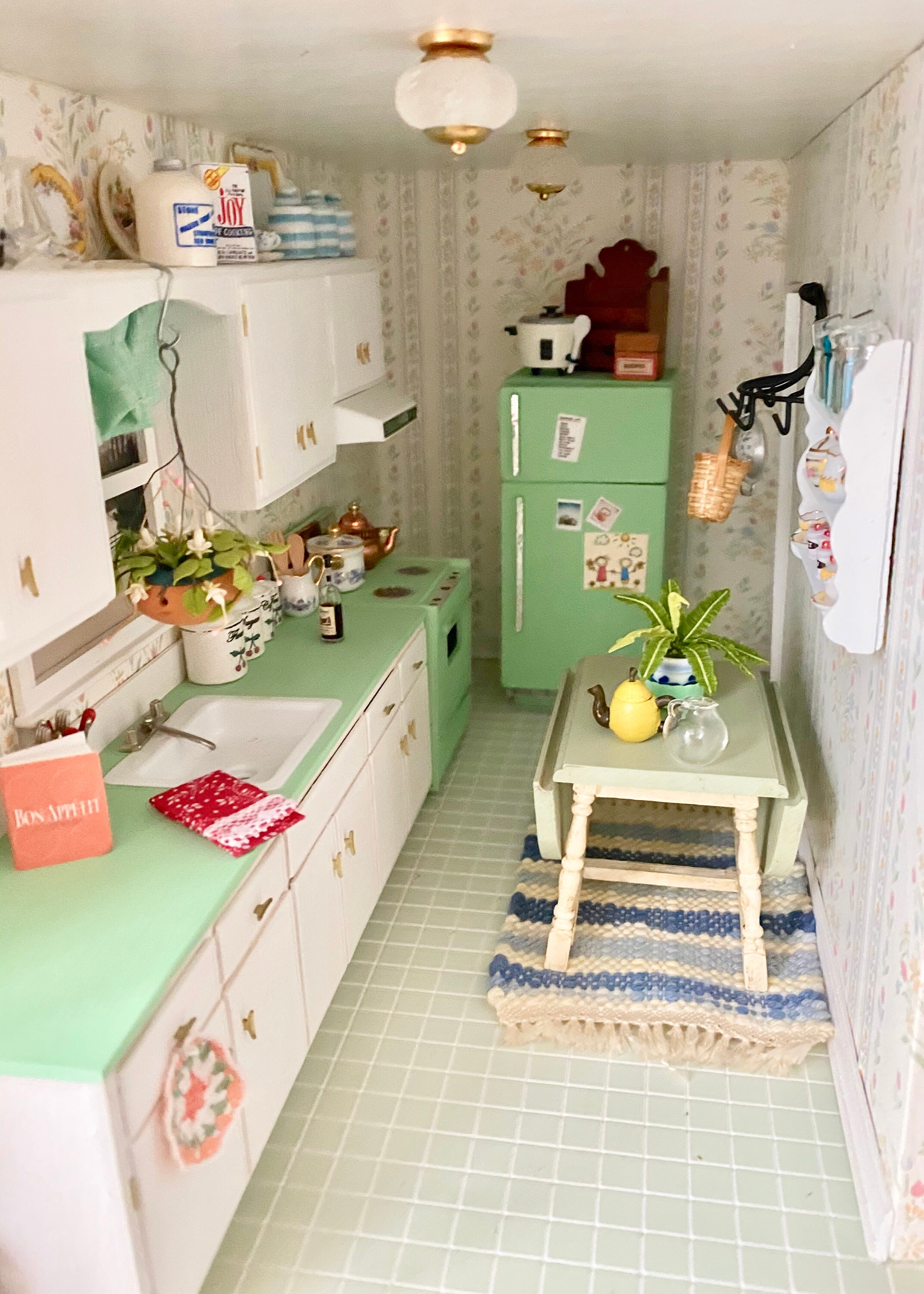 I love this vintage style kitchen, but don't use it as often as I'd like for photos because it's very narrow.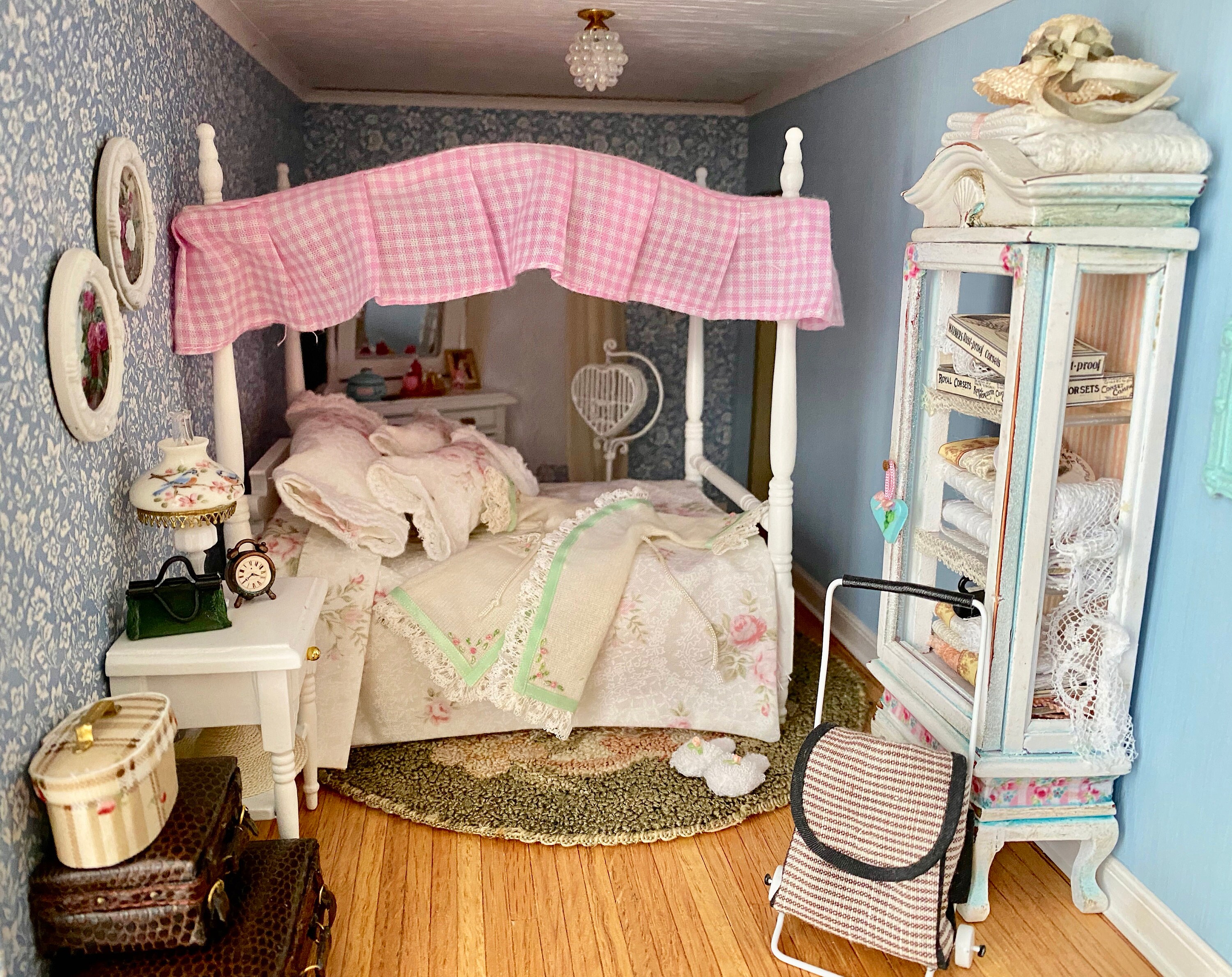 This room is directly above the kitchen, the handpainted cabinet to the right is full of pretty linens. a heart shaped bird cage sits in this room, and a sweet bird shade lamp is on the night stand.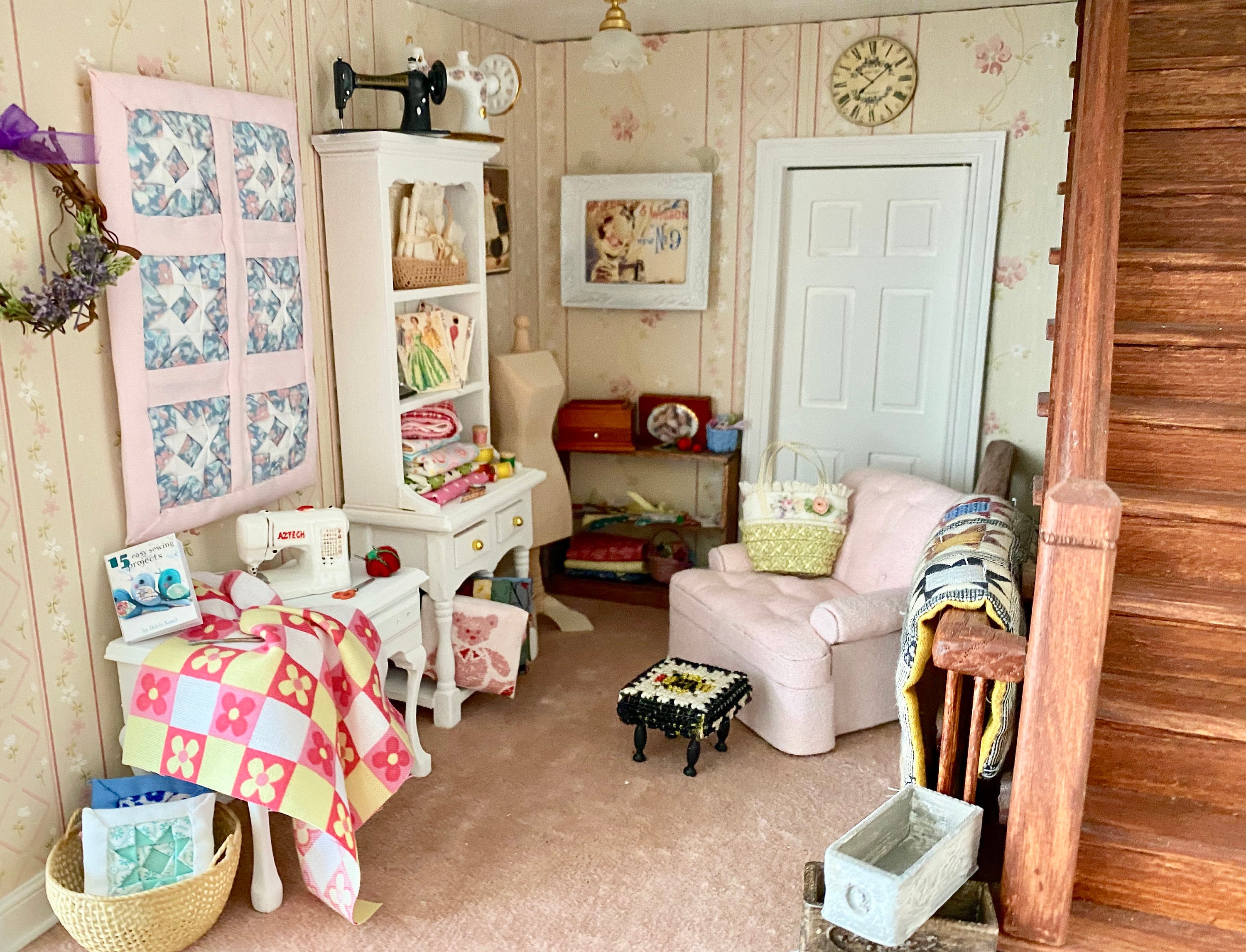 A pretty pink carpeted craft room is next to the bedroom. Love the quilts and hand painted distress vintage look sewing machine drawers next to the stairs.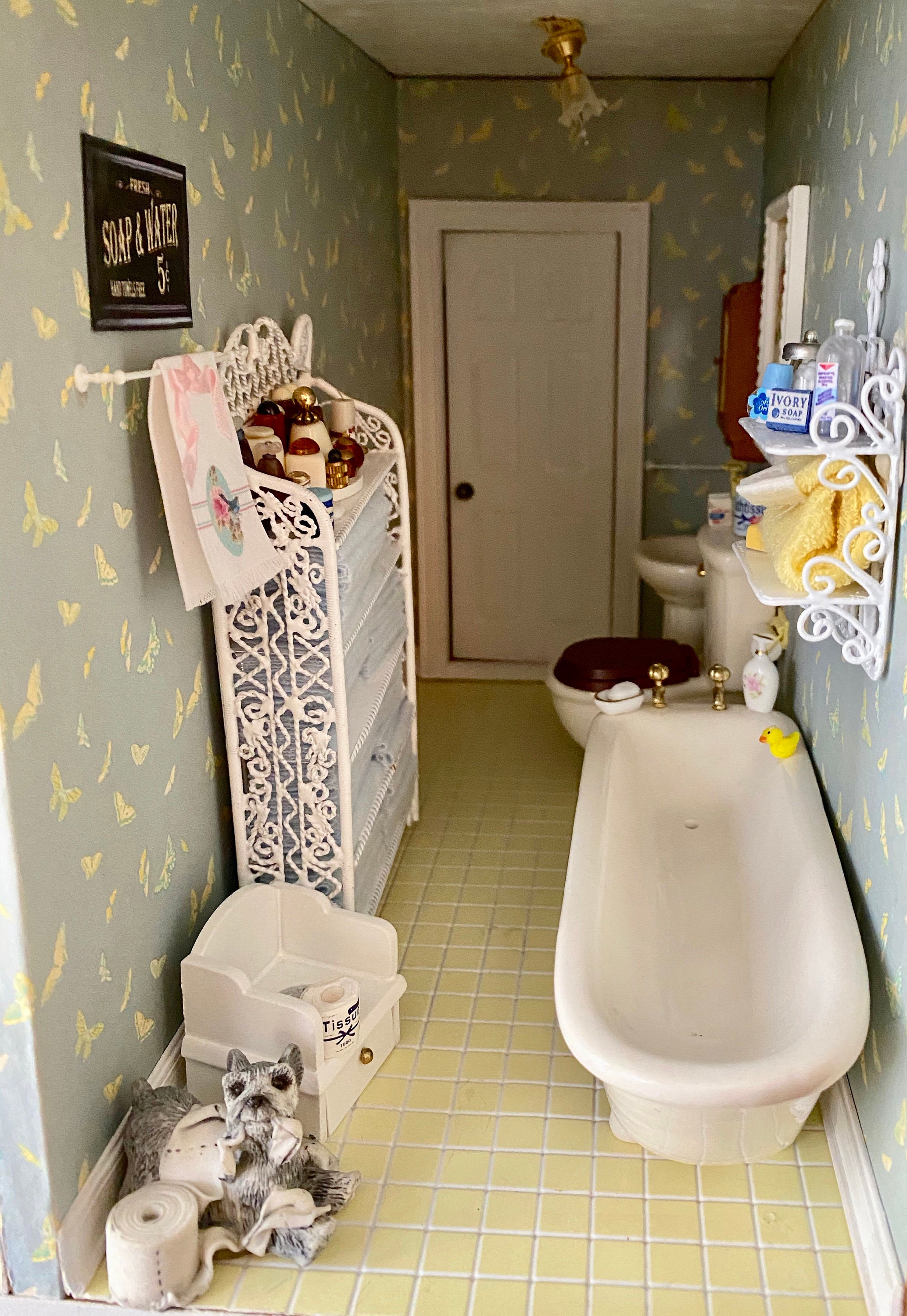 Another bathroom, but again I don't use this one very often since it's very narrow.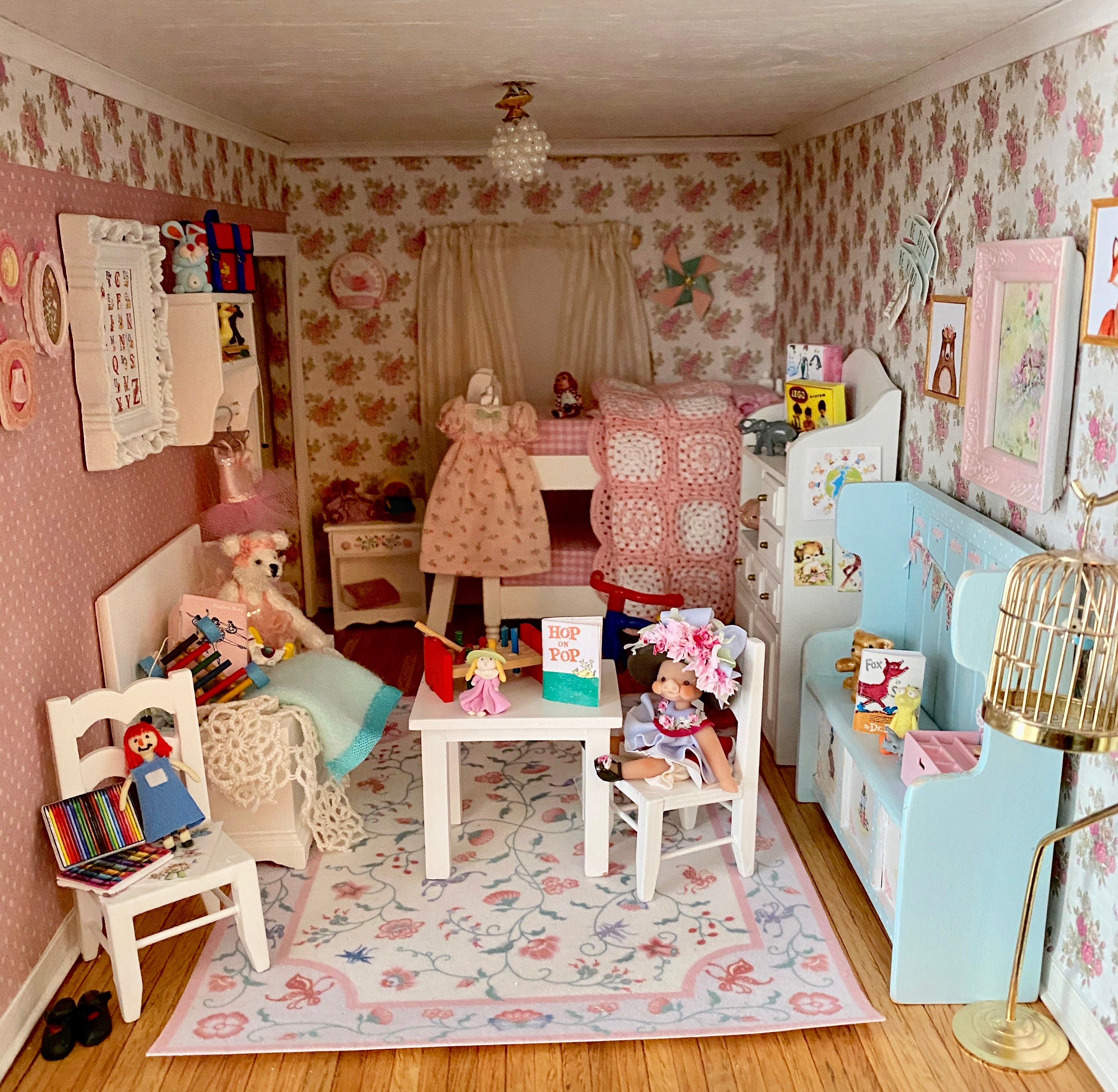 I use this room for photos alot, so many cute things in here. The bench on the right is hand painted, the cute pig is artist made and happily sits on this children's chair. The bunk beds in the back show off a crocheted throw and cute hand made dolly. The bear in the toy box wears a soft pink tutu and headband.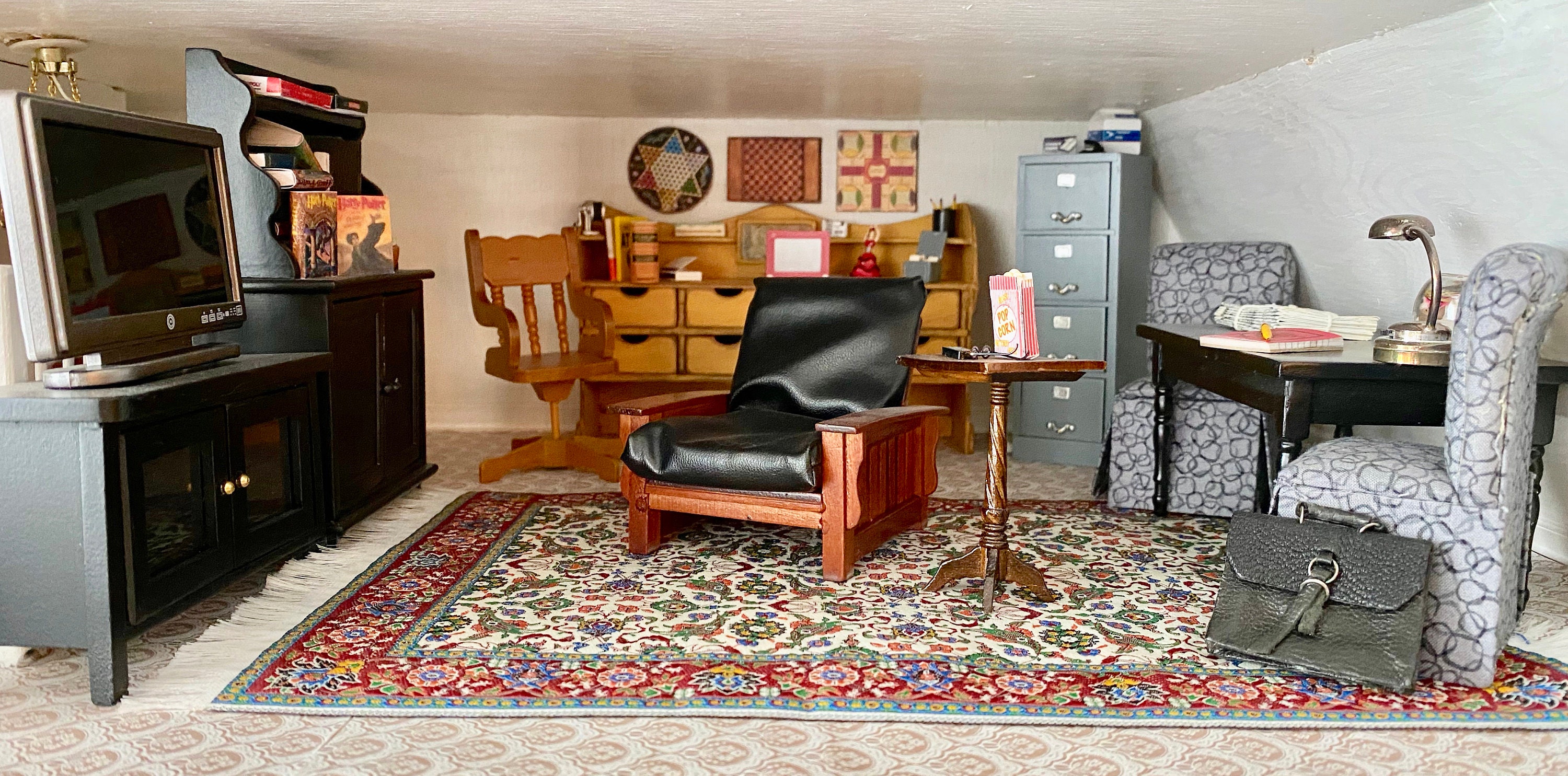 This dollhouse has a 3rd floor attic space. Up here is a room I turned into a office/man cave. I made the table in the back from a kit and just love all the drawers. Another favorite piece in this room is the vintage filing cabinet in the corner.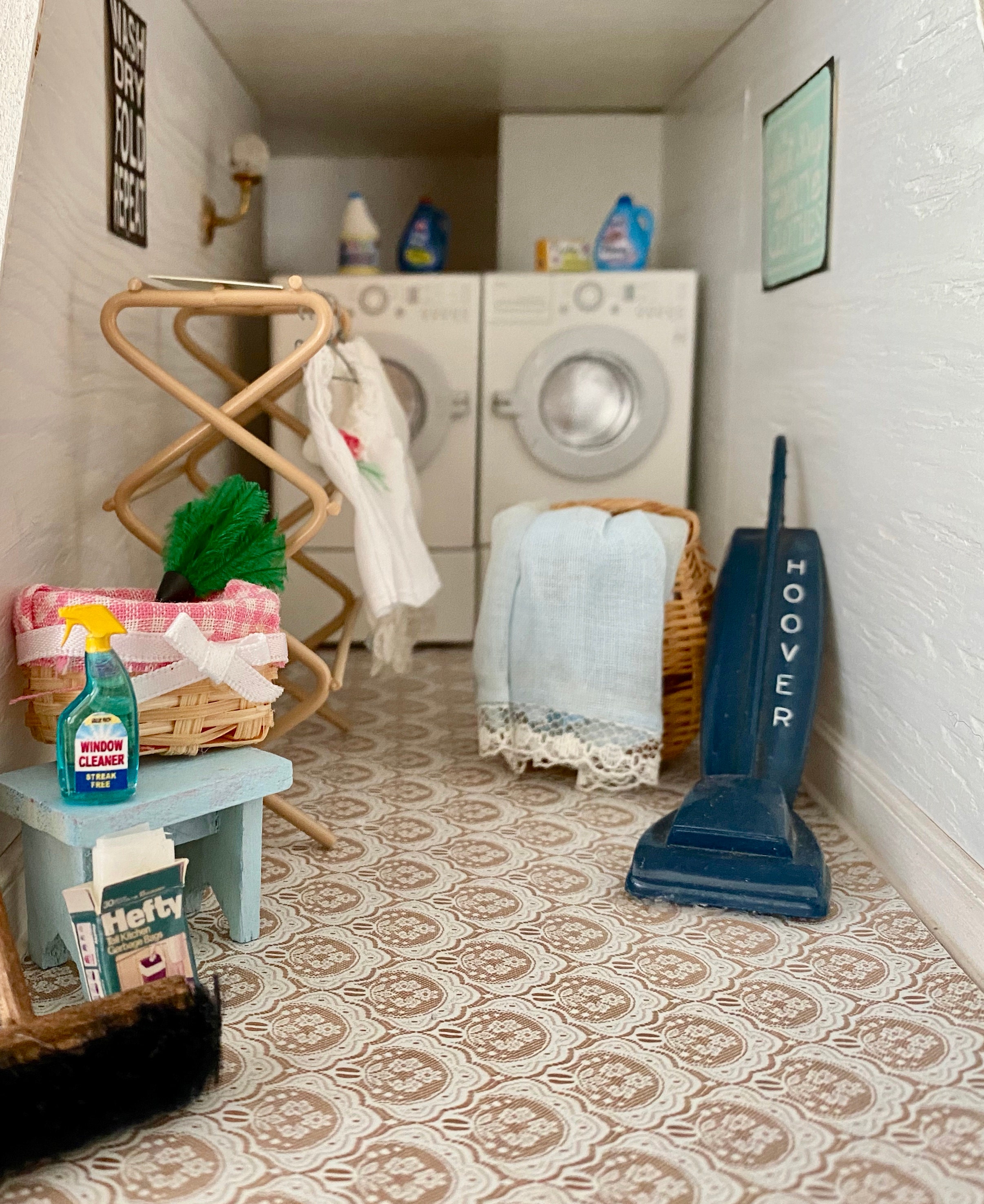 Next to the office is my laundry room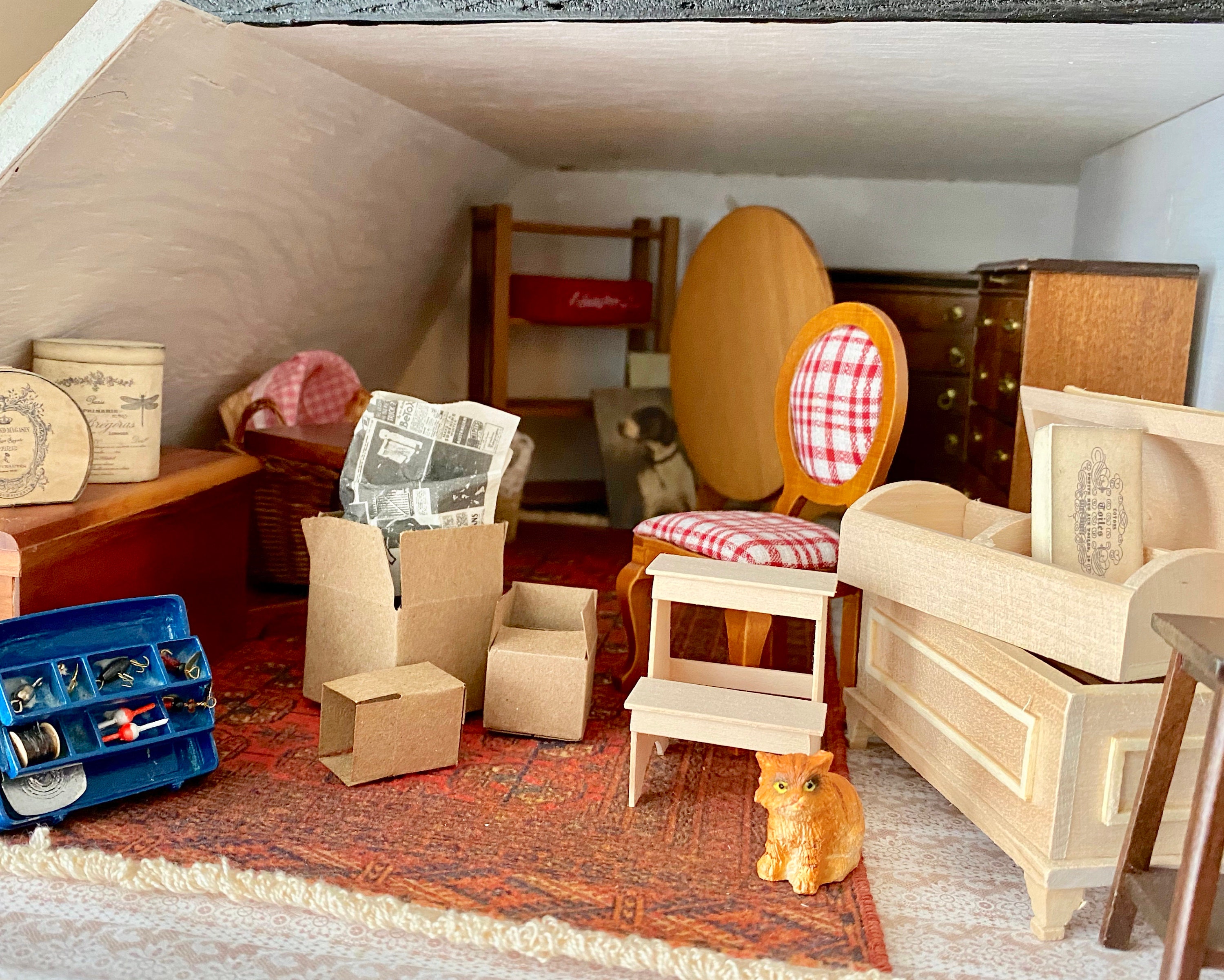 I use the last room as attic storage space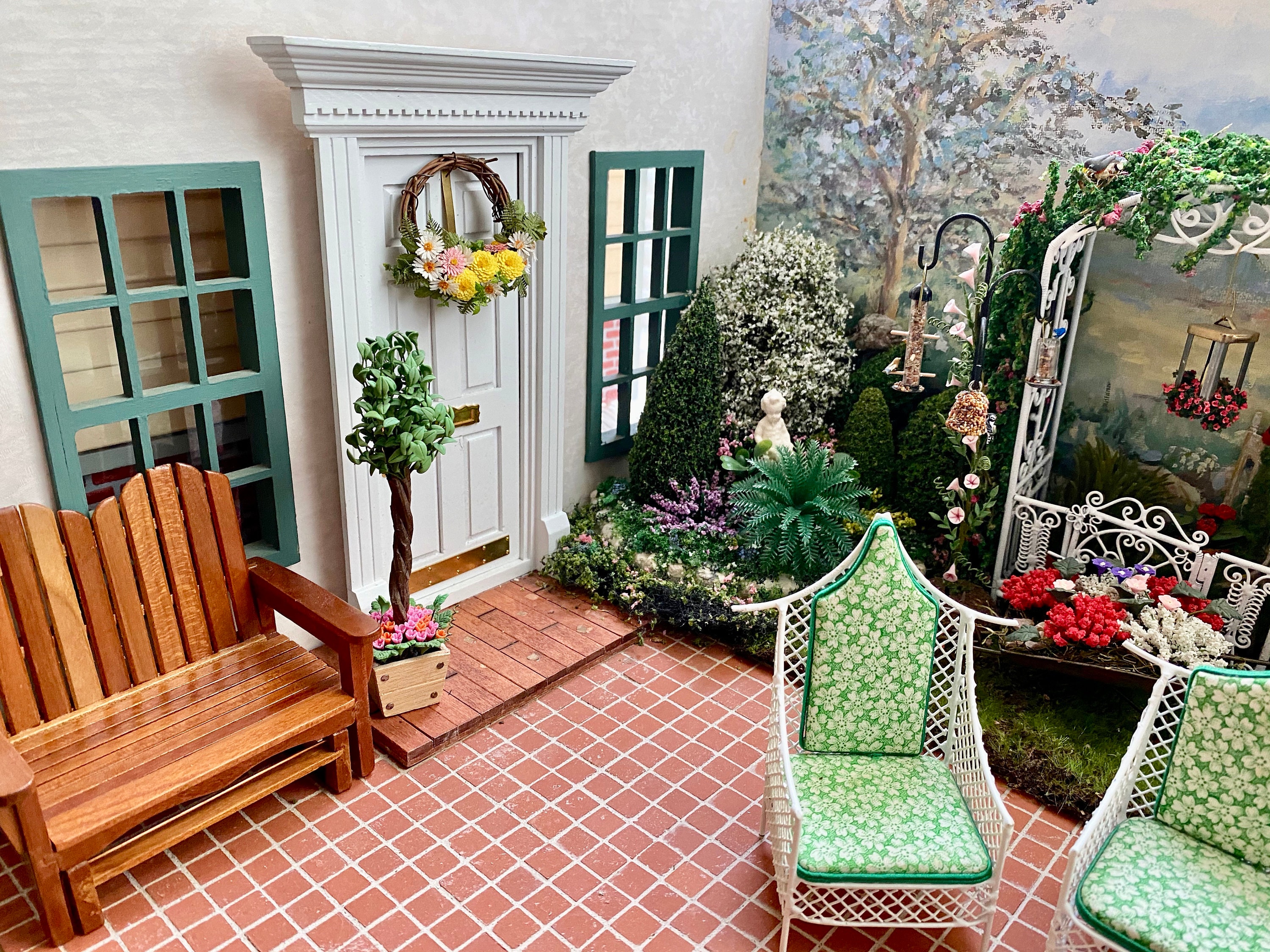 My garden/patio shadow box is also used alot for photos. The door on the left is hand crafted and holds a handmade paper flower wreath.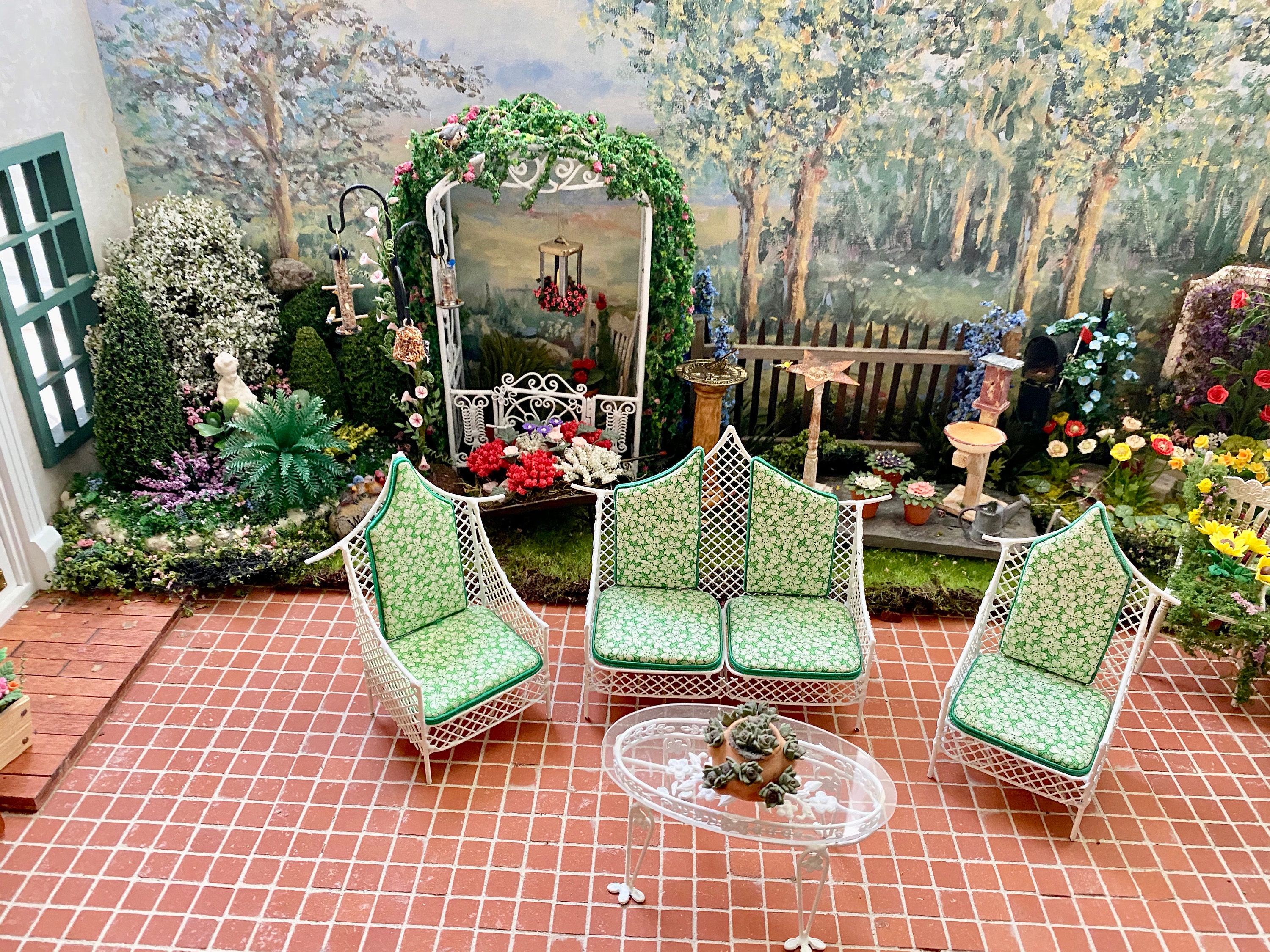 The vintage patio furniture is definitely a favorite, I get asked about it a lot, but I've never been able to find another set.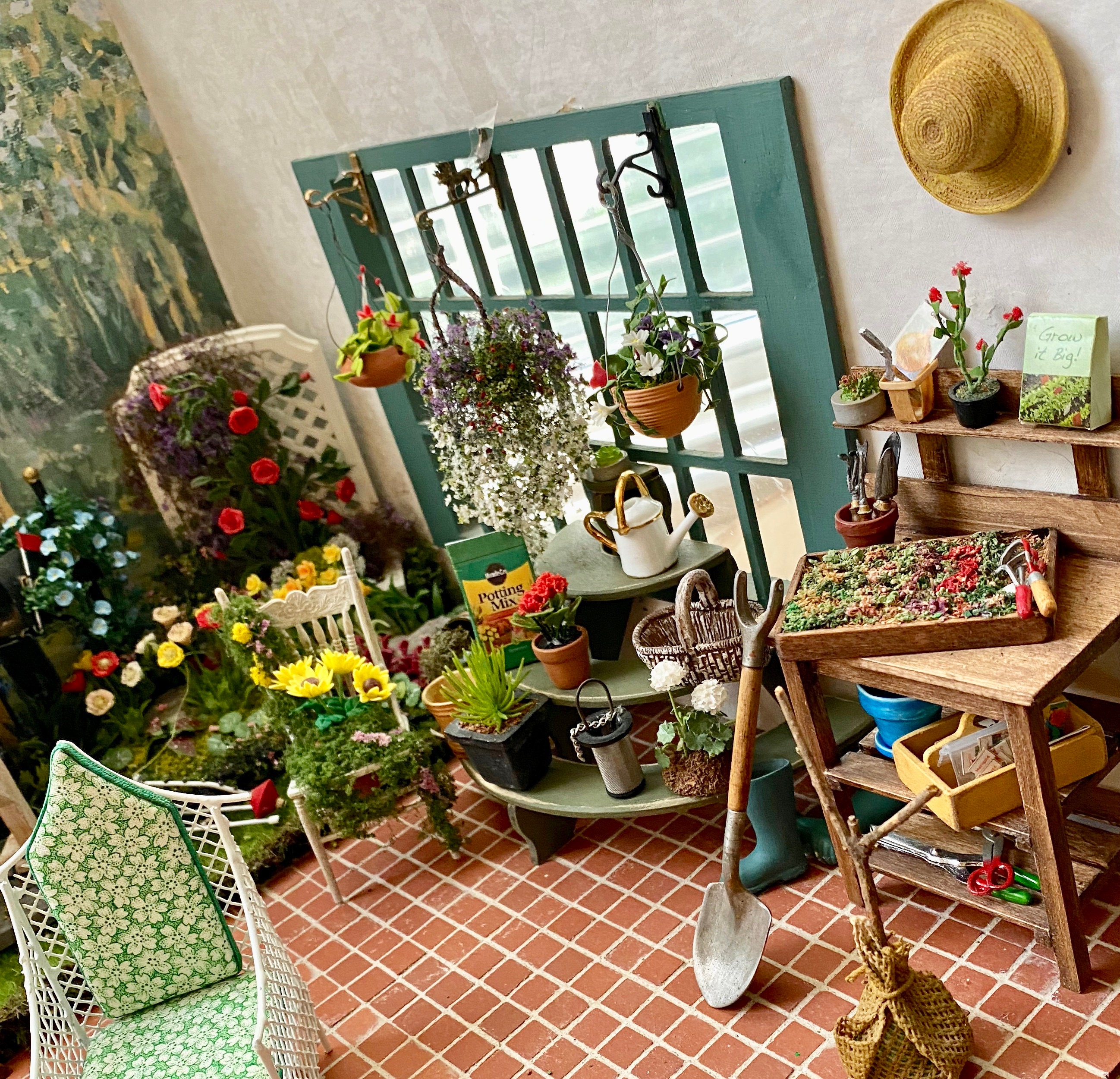 The minute I saw this shadow box with its big windows and brick floor I knew it would be my patio garden. I love that I can hang plants everywhere and change it up often depending on the season.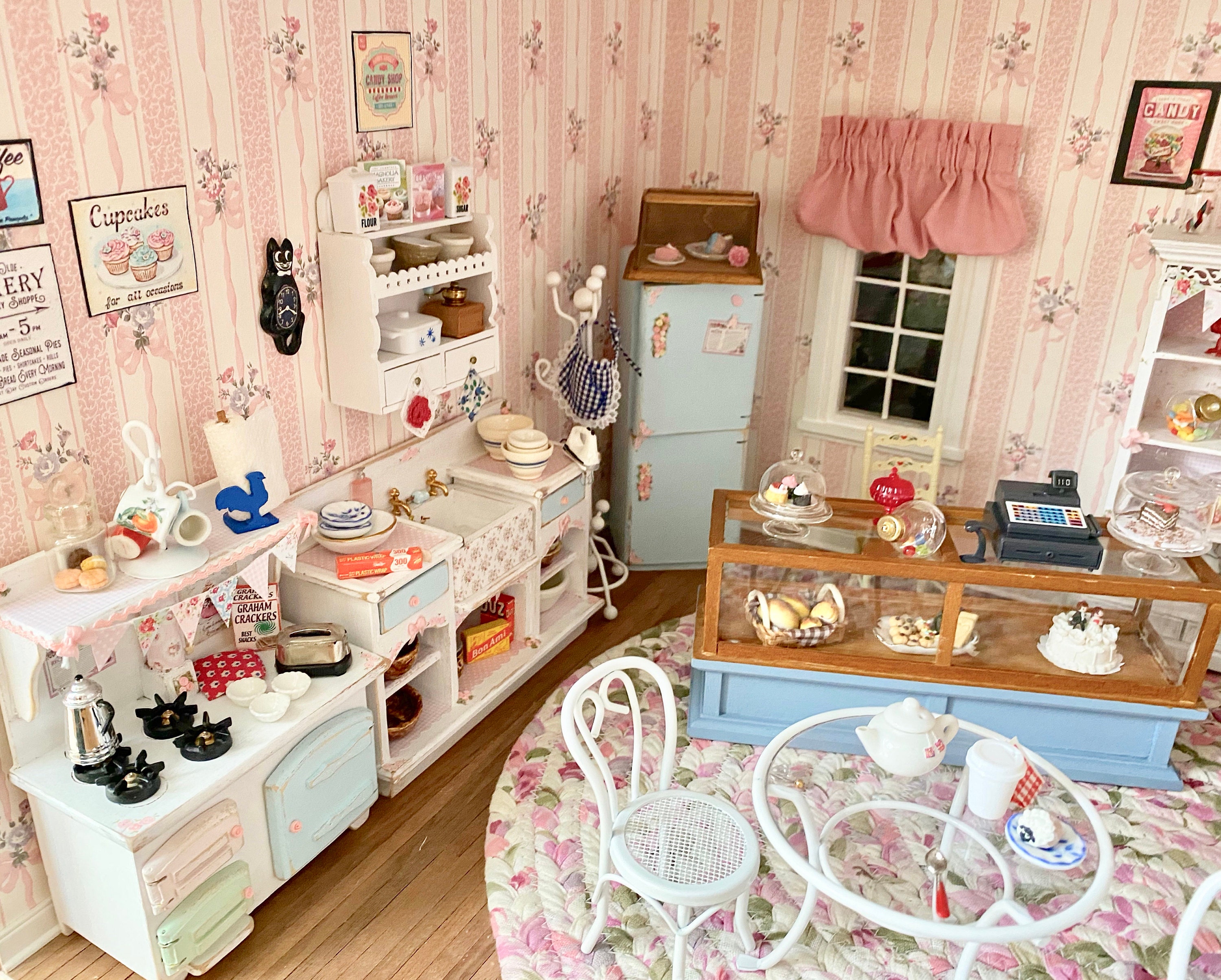 This shadow box is also used for a lot of photos because it's big and bright. I got the adorable vintage style hand painted kitchen set from a wonderful artist at a miniature show. The display counters are filled with yummy looking treats. When I got this shadow box it already had the wallpaper and immediately made me think of a bakery.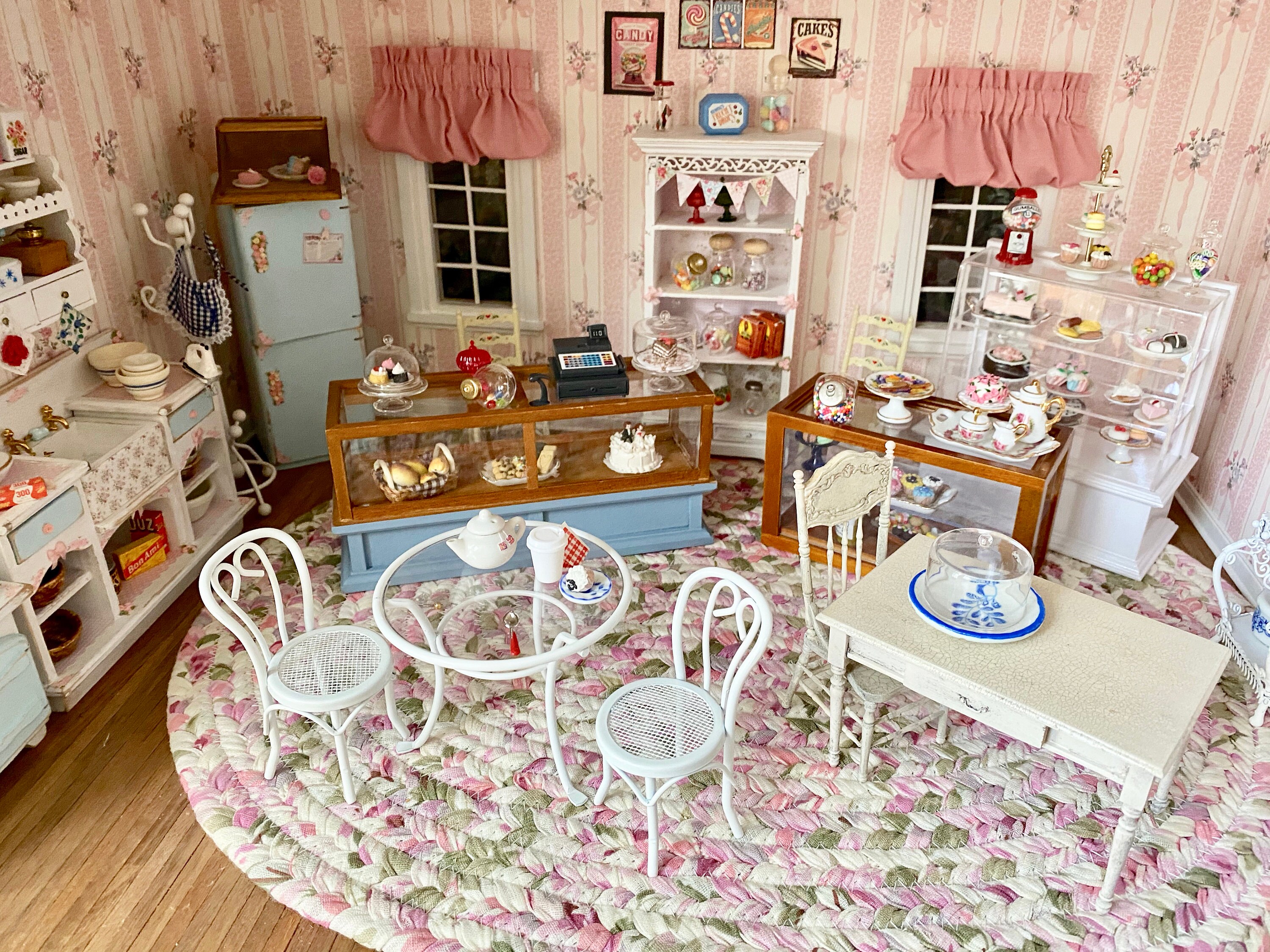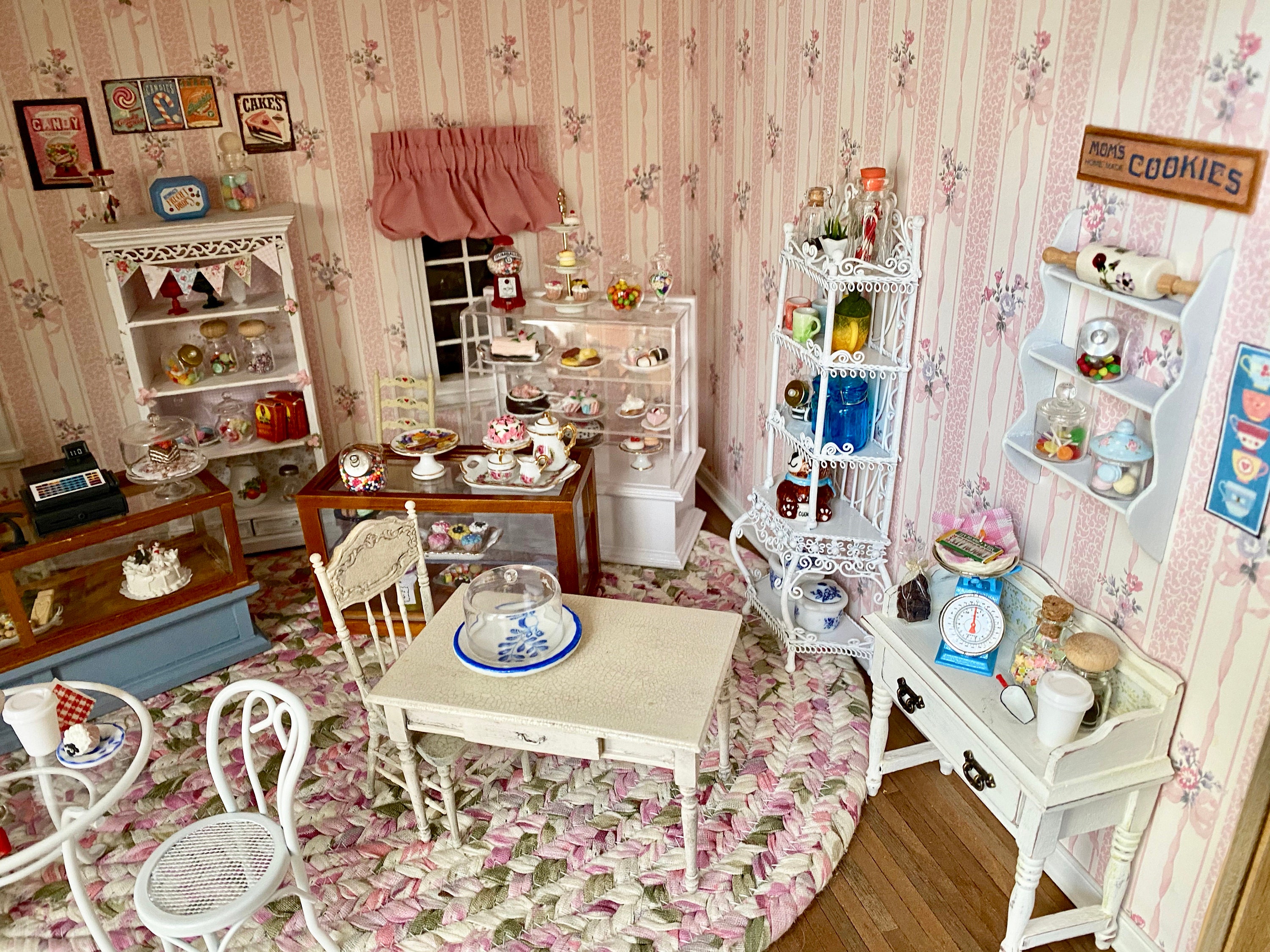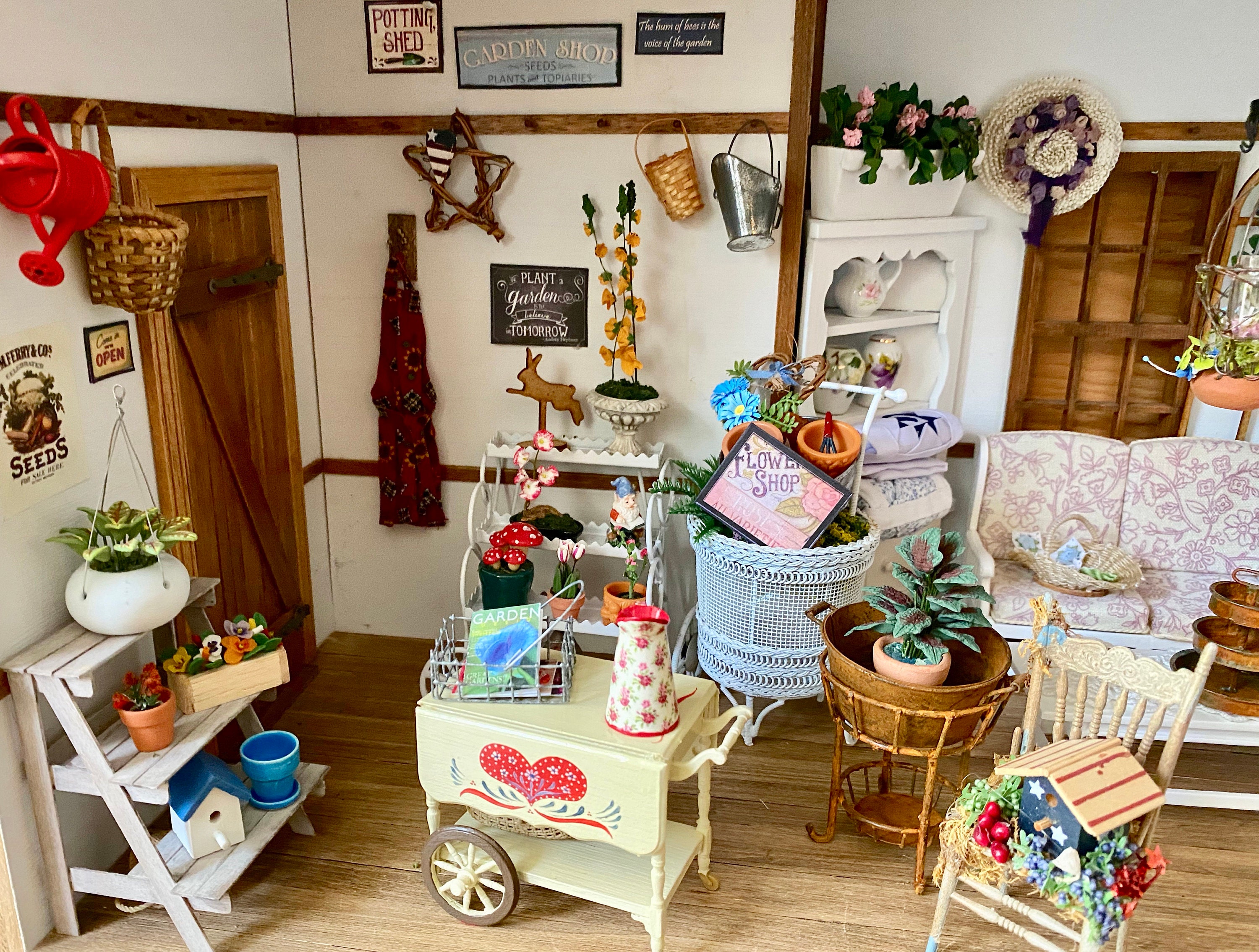 I use this shadow box as my garden/flower shop. I recently changed the right side to include some "she shed" items.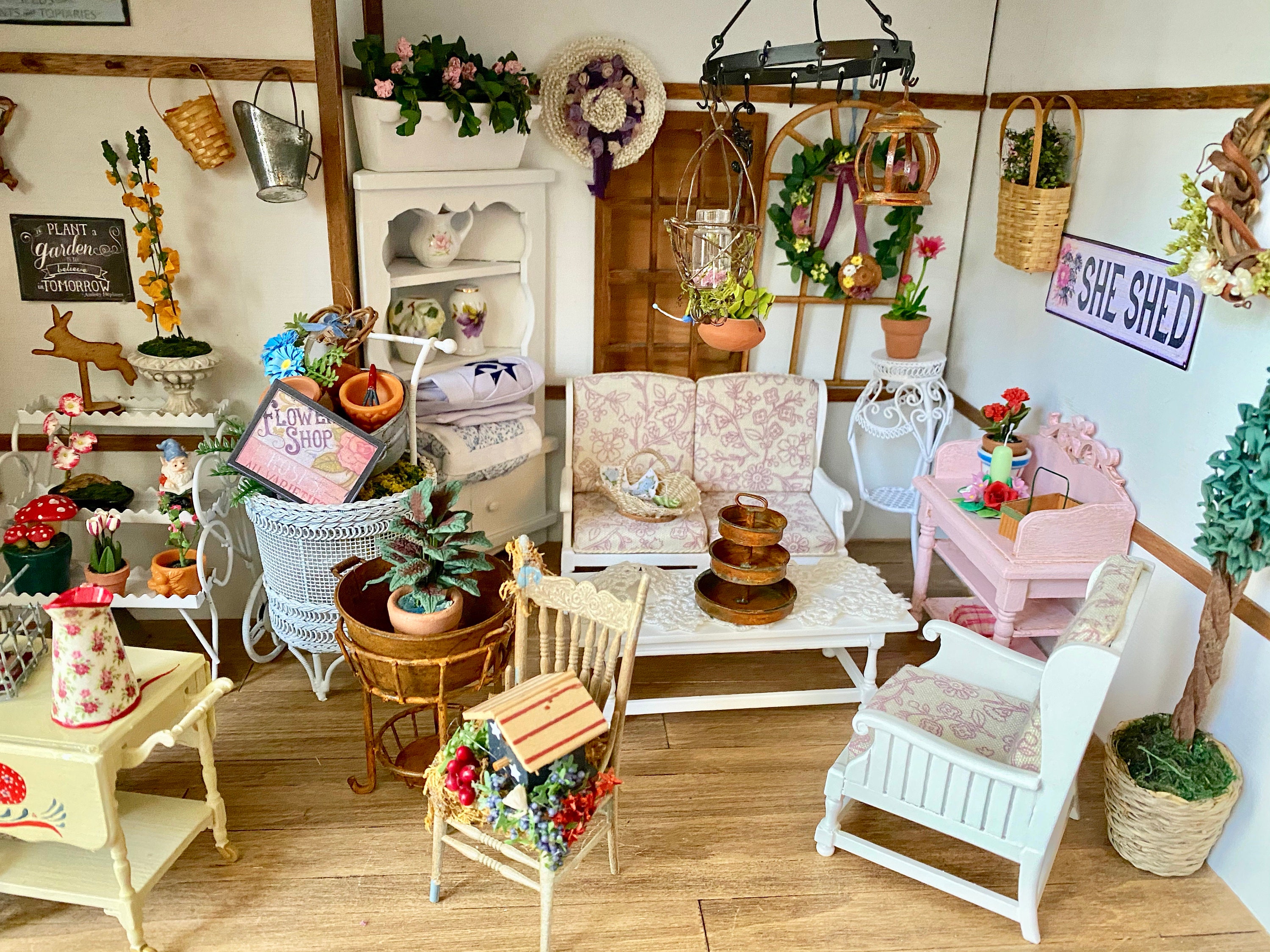 I love the floors in the box and the tiny nails along the top of the walls are perfect for hanging baskets and plants.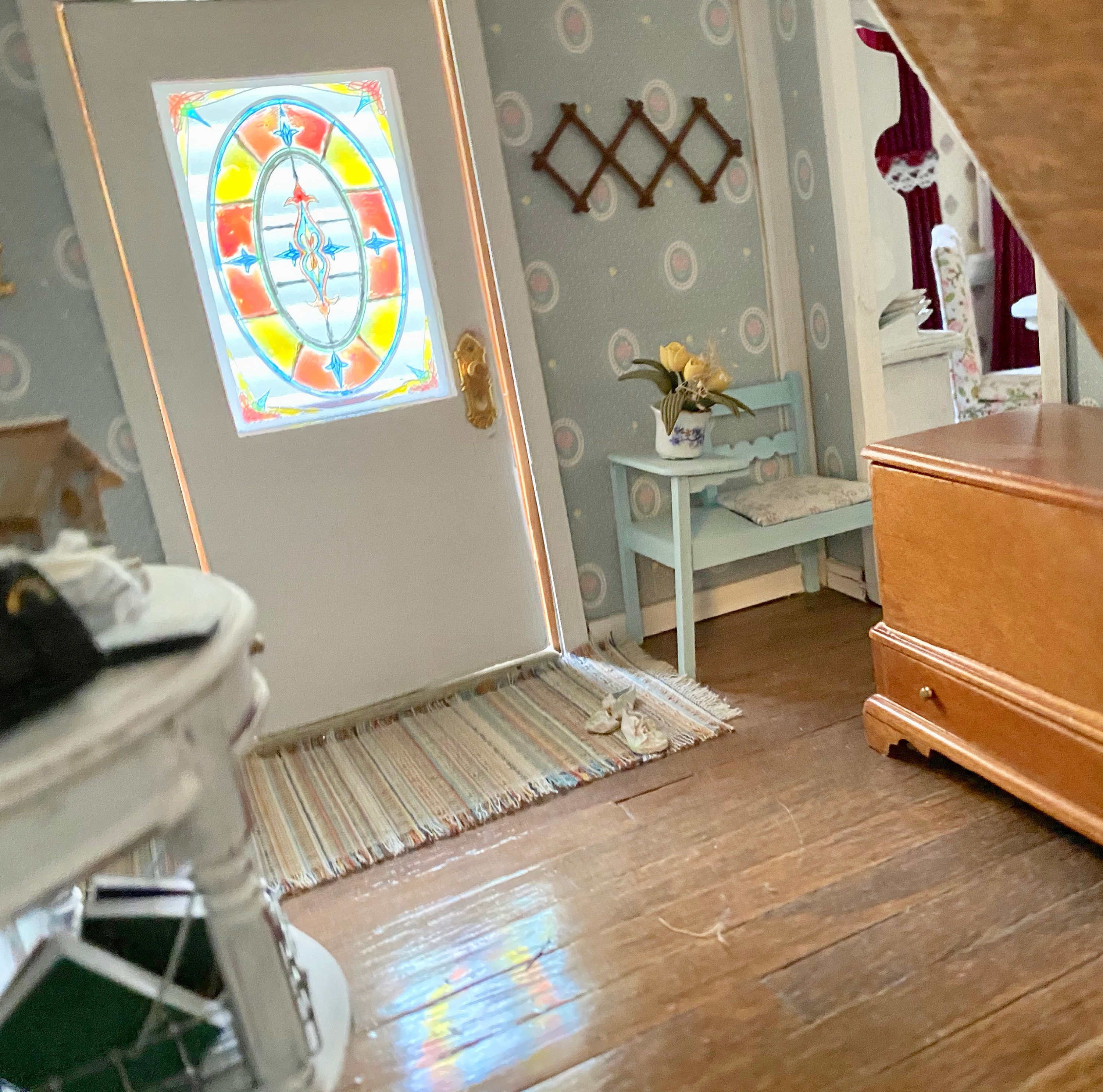 Welcome to dollhouse #1. This ws my first "big girl" dollhouse. You may have seen some photos that I posted in the past, but there have been some changes so come on in.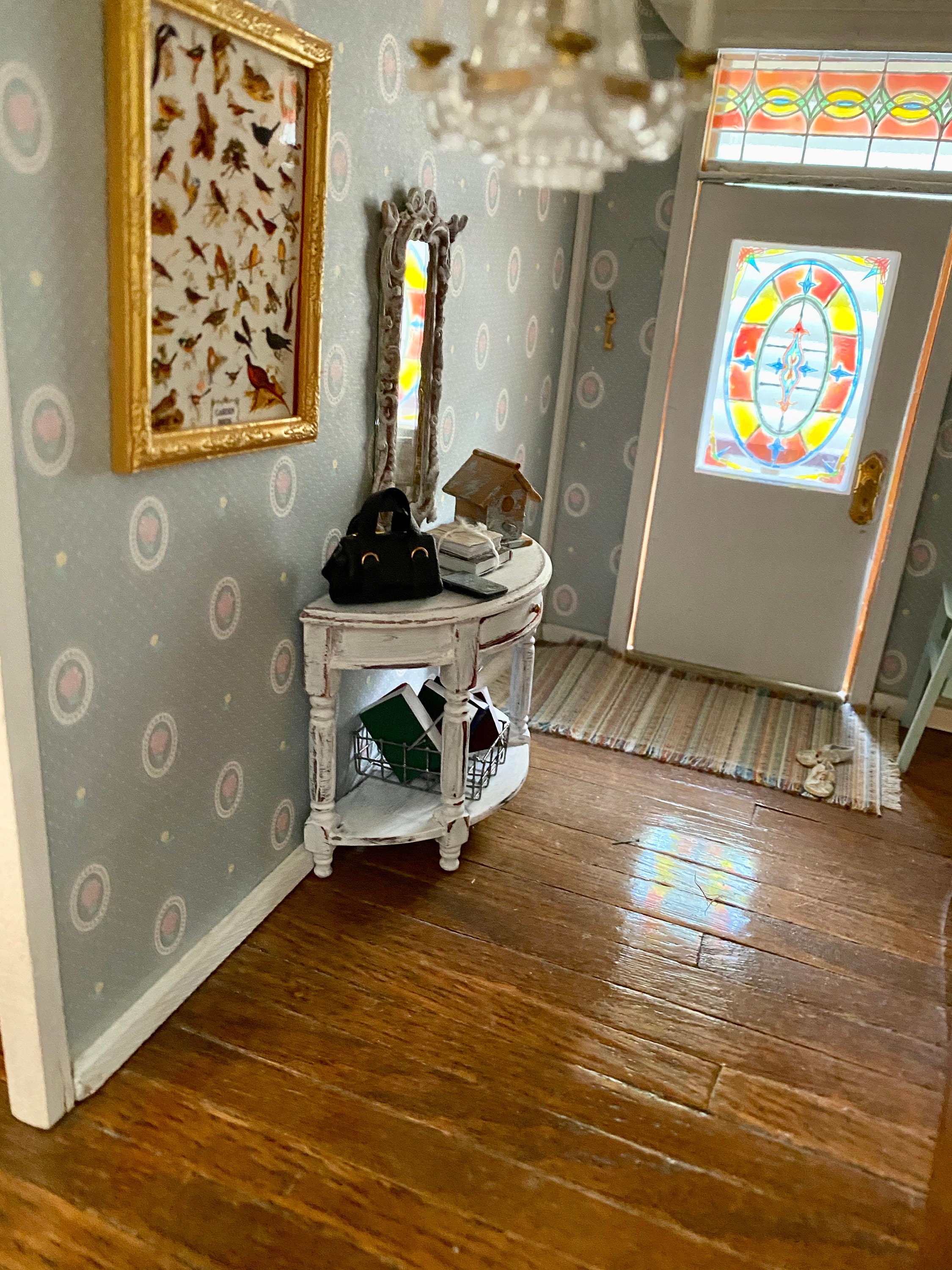 I bought this dollhouse used and haven't really made alot of changes to it other than adding items. I love the vintage feel of it. Even the old wallpaper. The hall table was originally brown, but I painted and distressed it and now it's a favorite.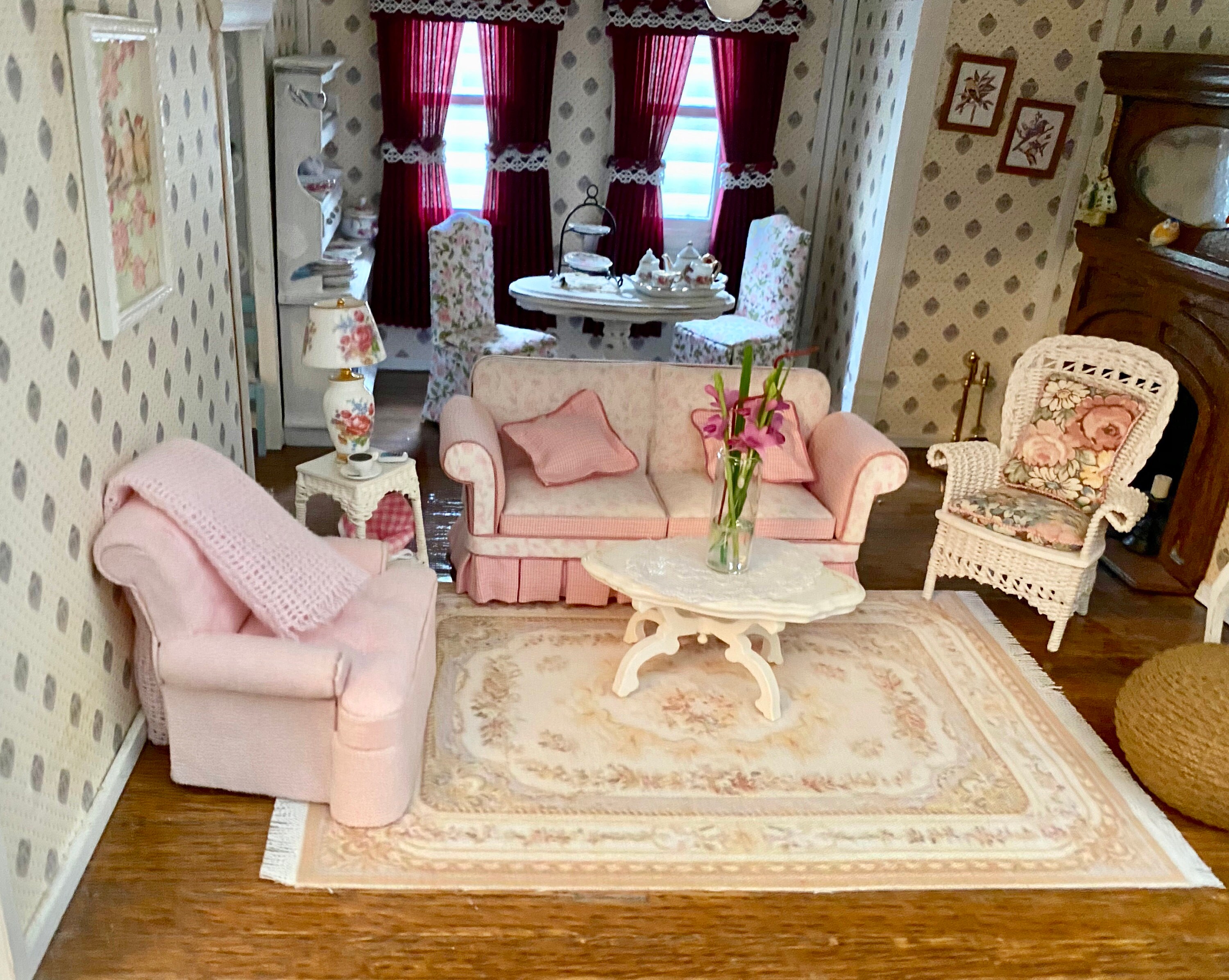 This dollhouse loves Pink. I love this couch and the vintage wicker chair.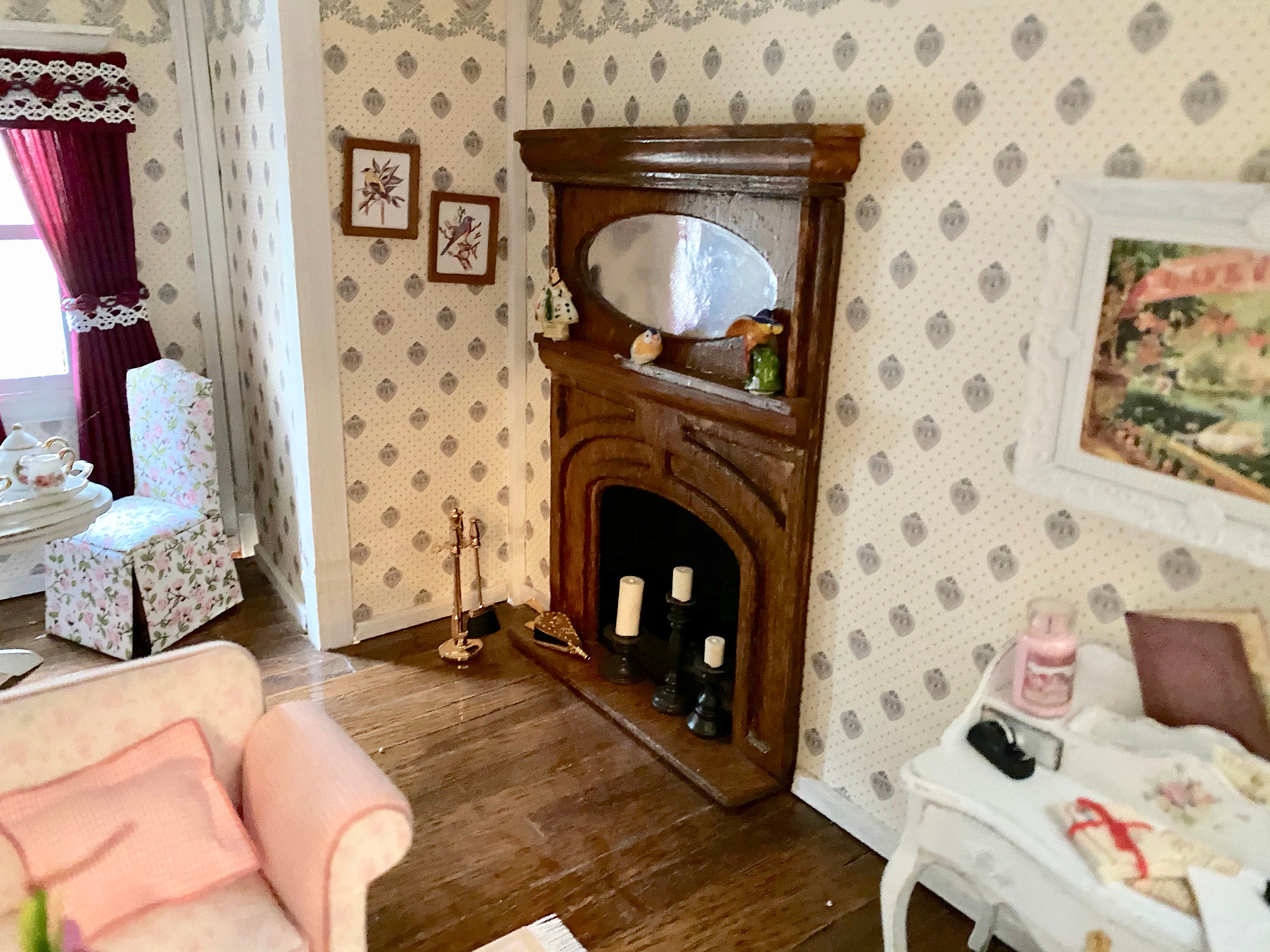 This room and the master bedroom above it have built in fireplaces.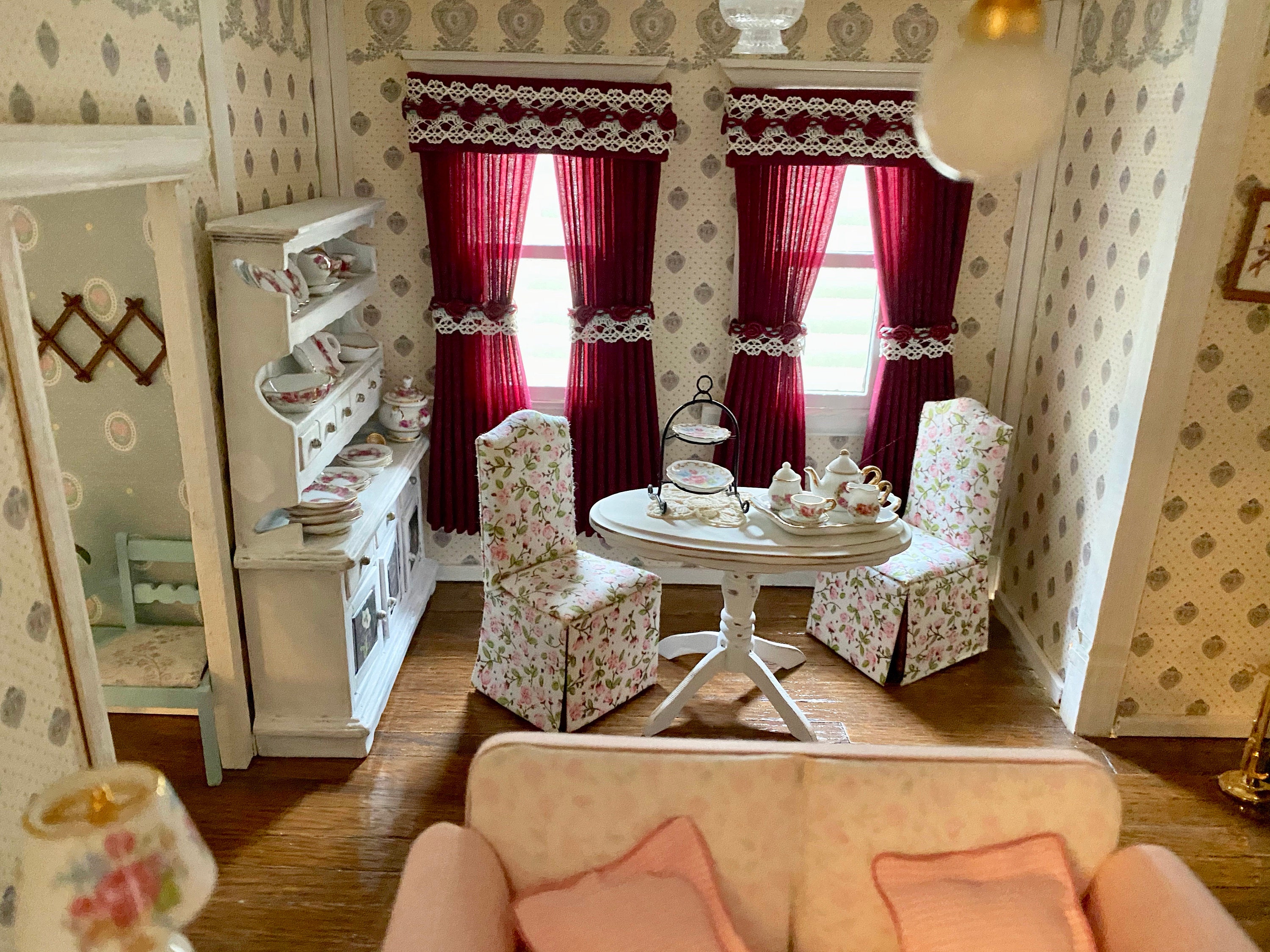 In the back of the room there is plenty of room for a dining area. The hutch is another item I painted and distressed. Of course its full of pretty dishes and table linens.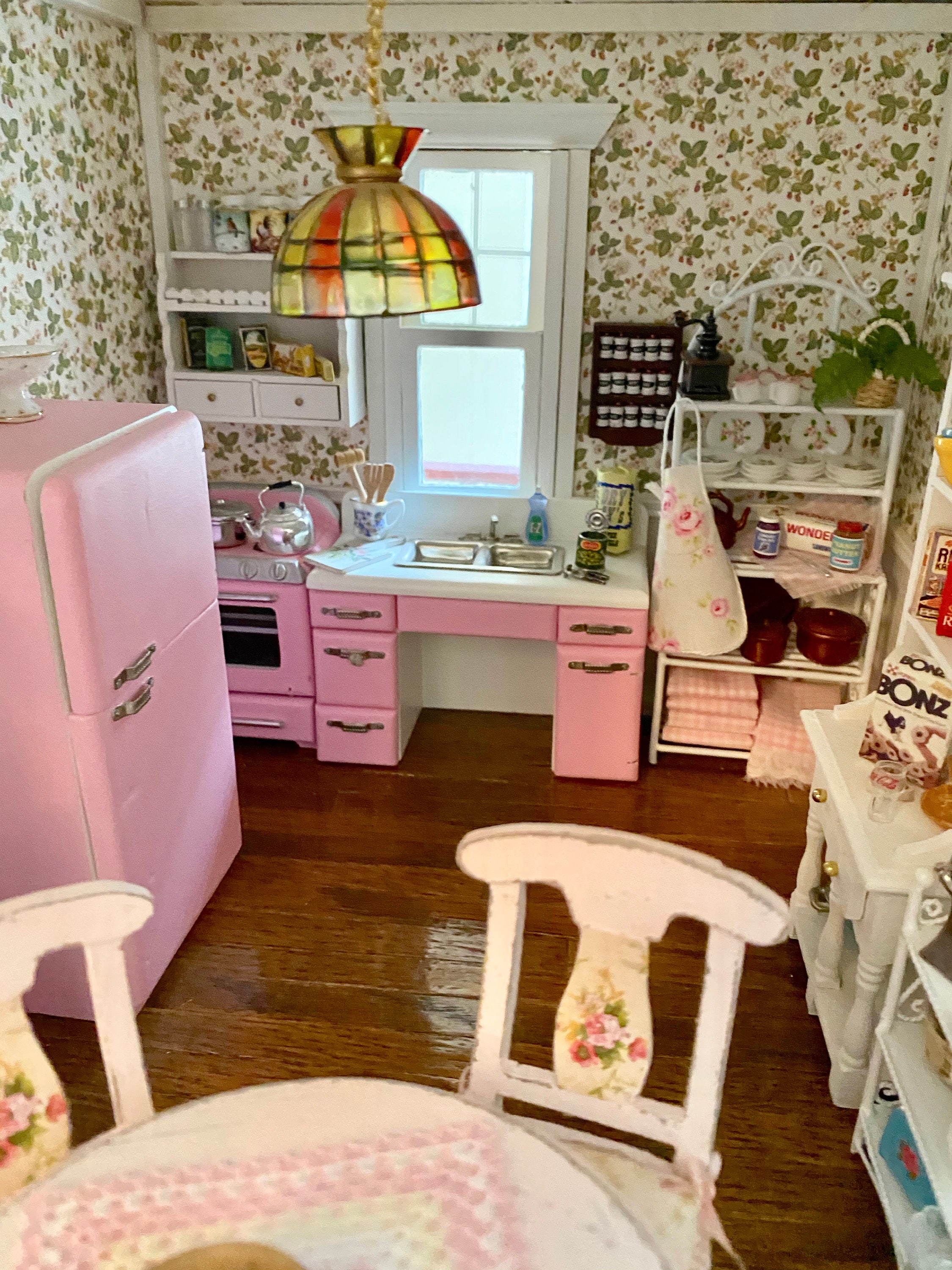 The Pink kitchen was the first room in this house I decorated. I couldn't wait to paint the 1950's style kitchen appliances that fit perfectly in here.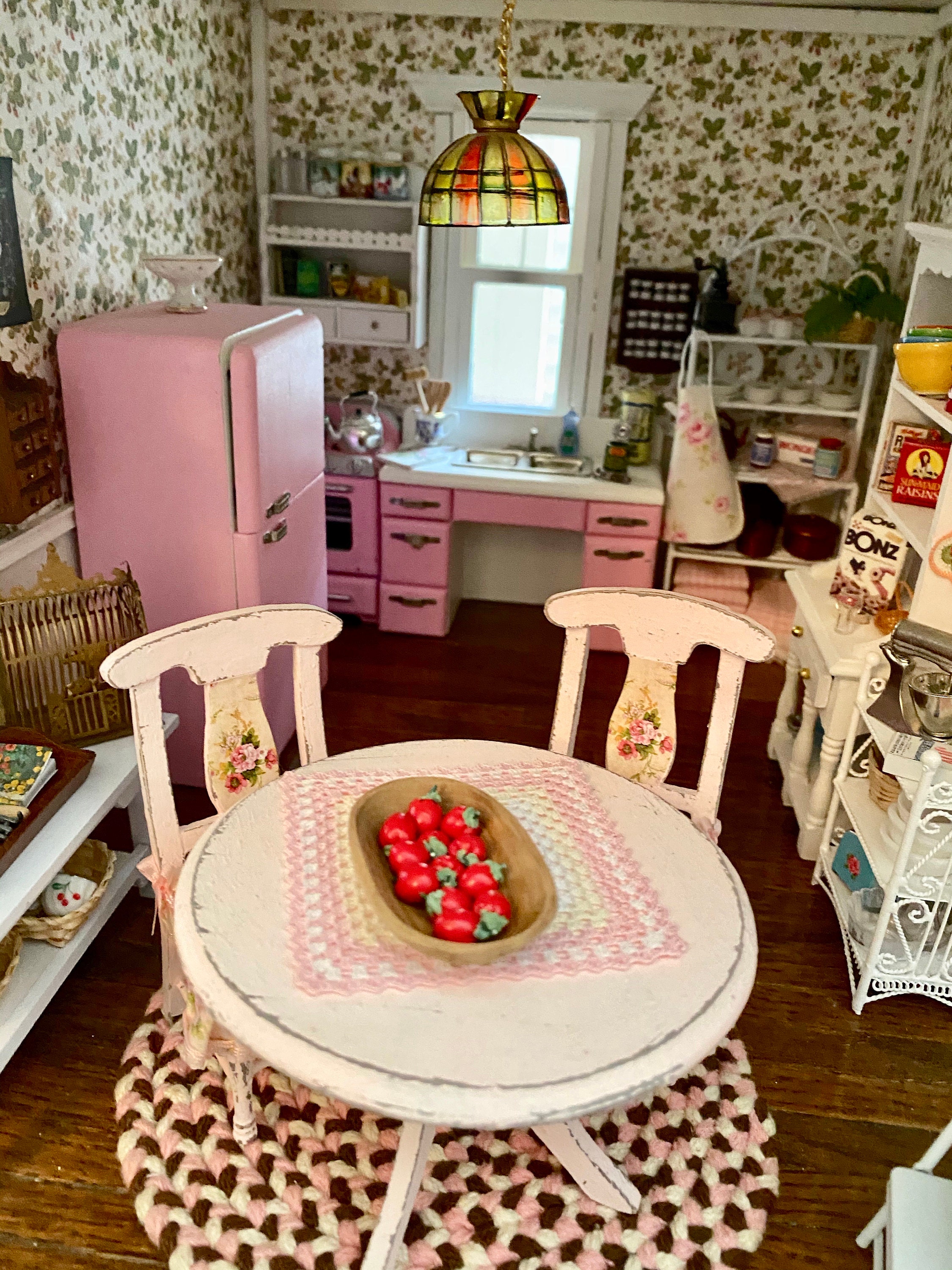 I purchased the pretty table and chair set from a miniature artist and just love the sweet round handmade rug and doily on the table.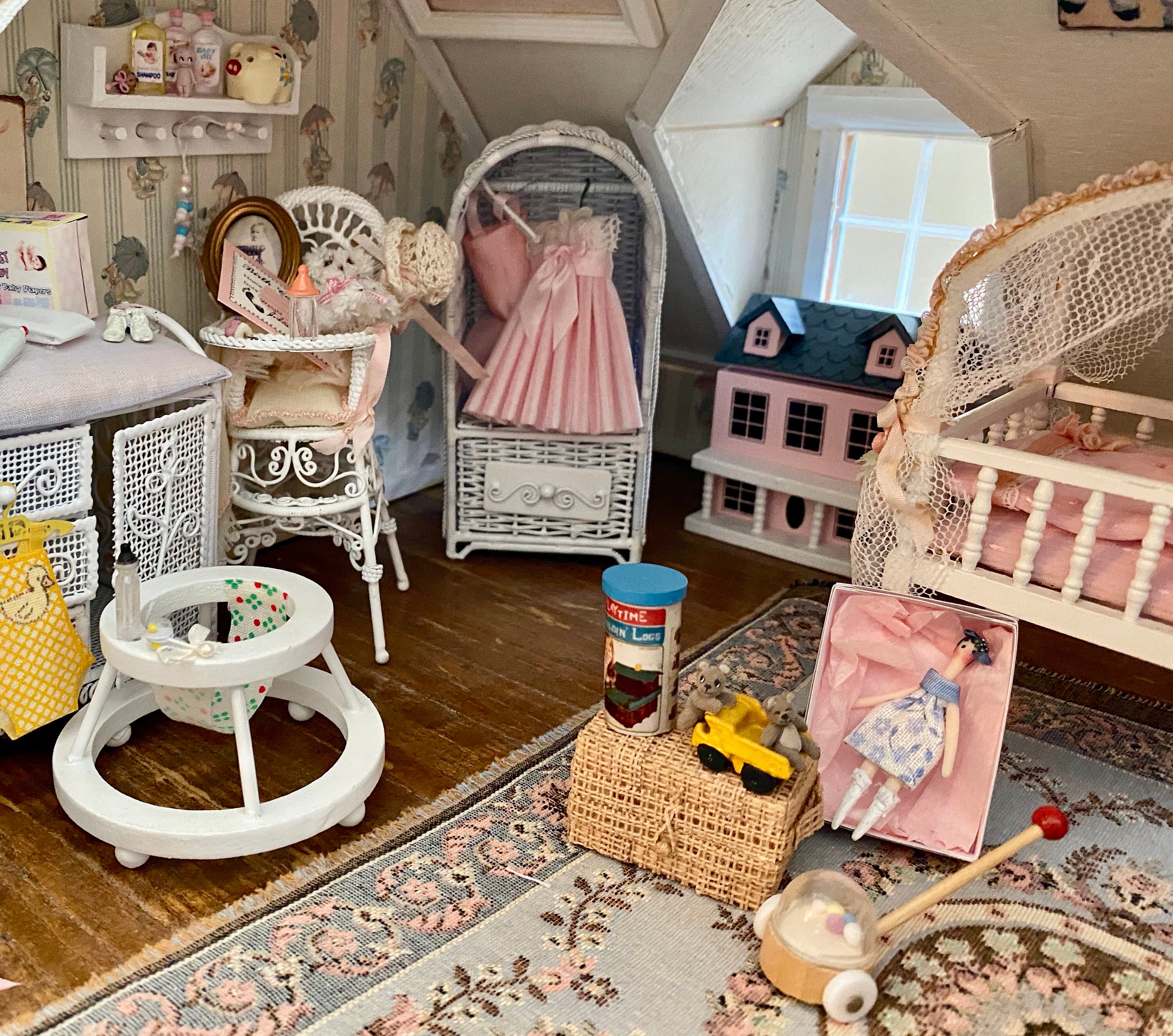 The nursery is another large room and was probably the second room I decorated when I got the house. The handmade crib is proudly displayed in the center of the room along with lots of sweet toys.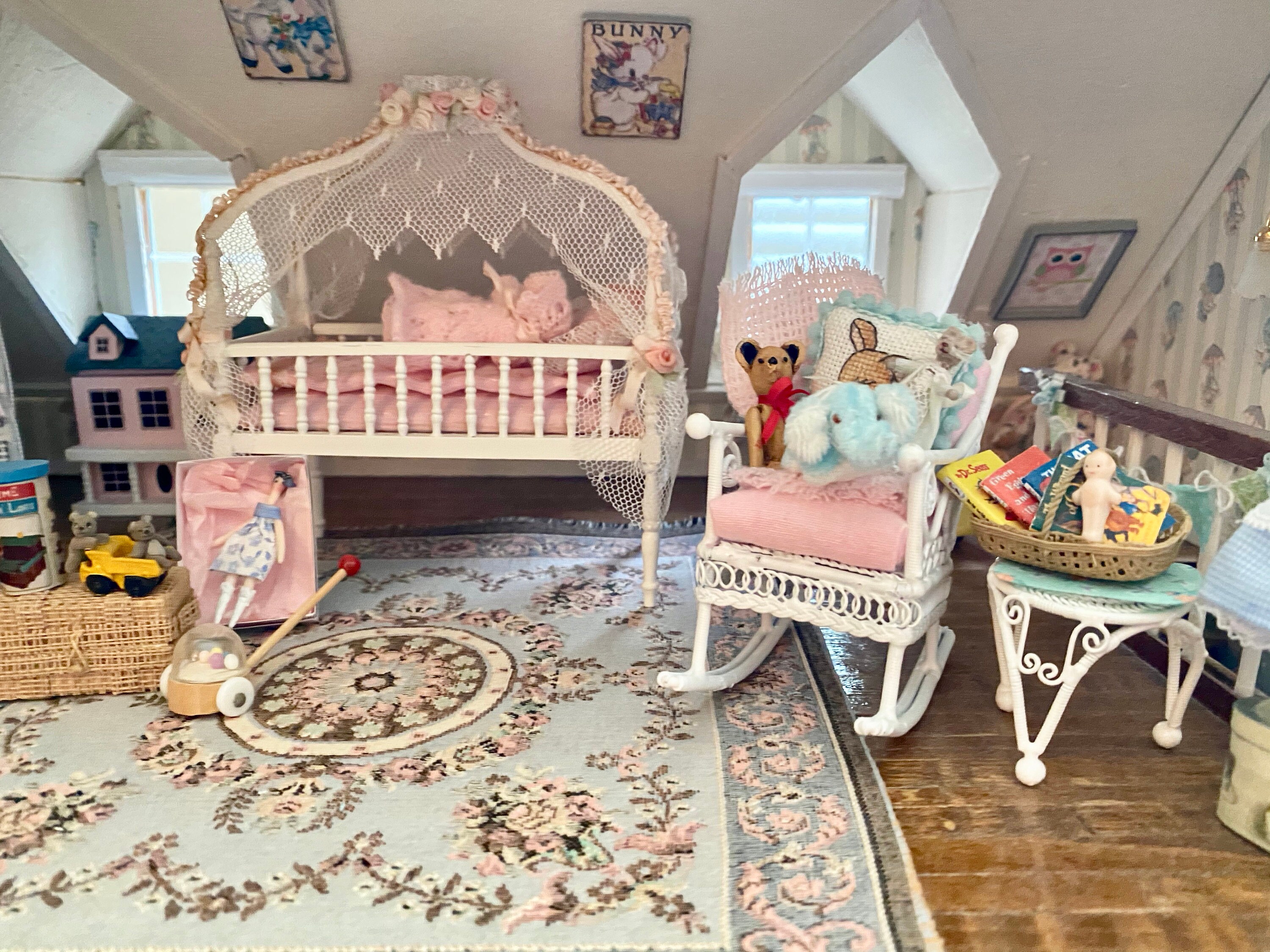 I found the metal rocker and table at a miniature shop and quickly put a sweet bear and pillow on it. Next to the chair is a basket of cute books and more toys.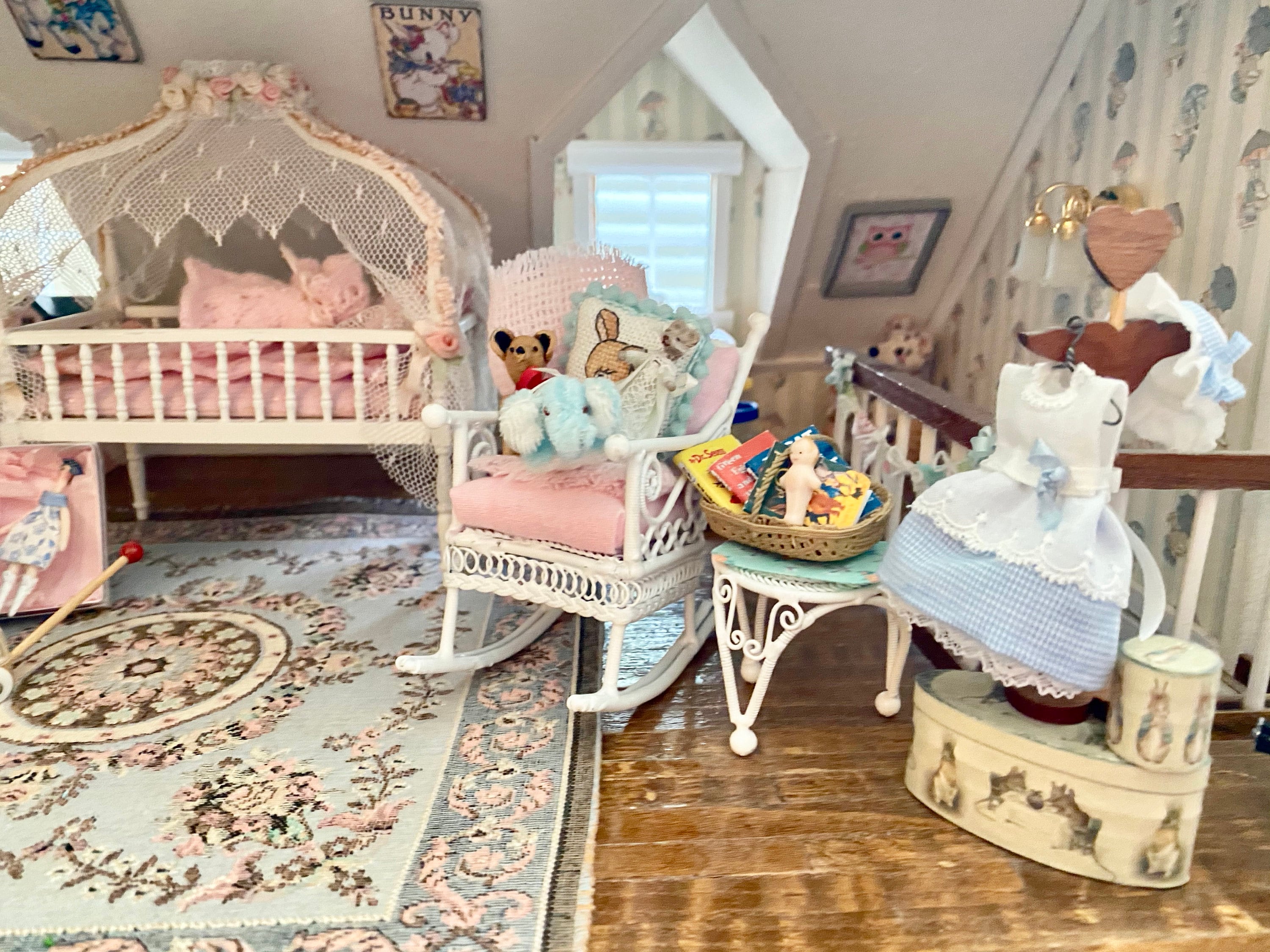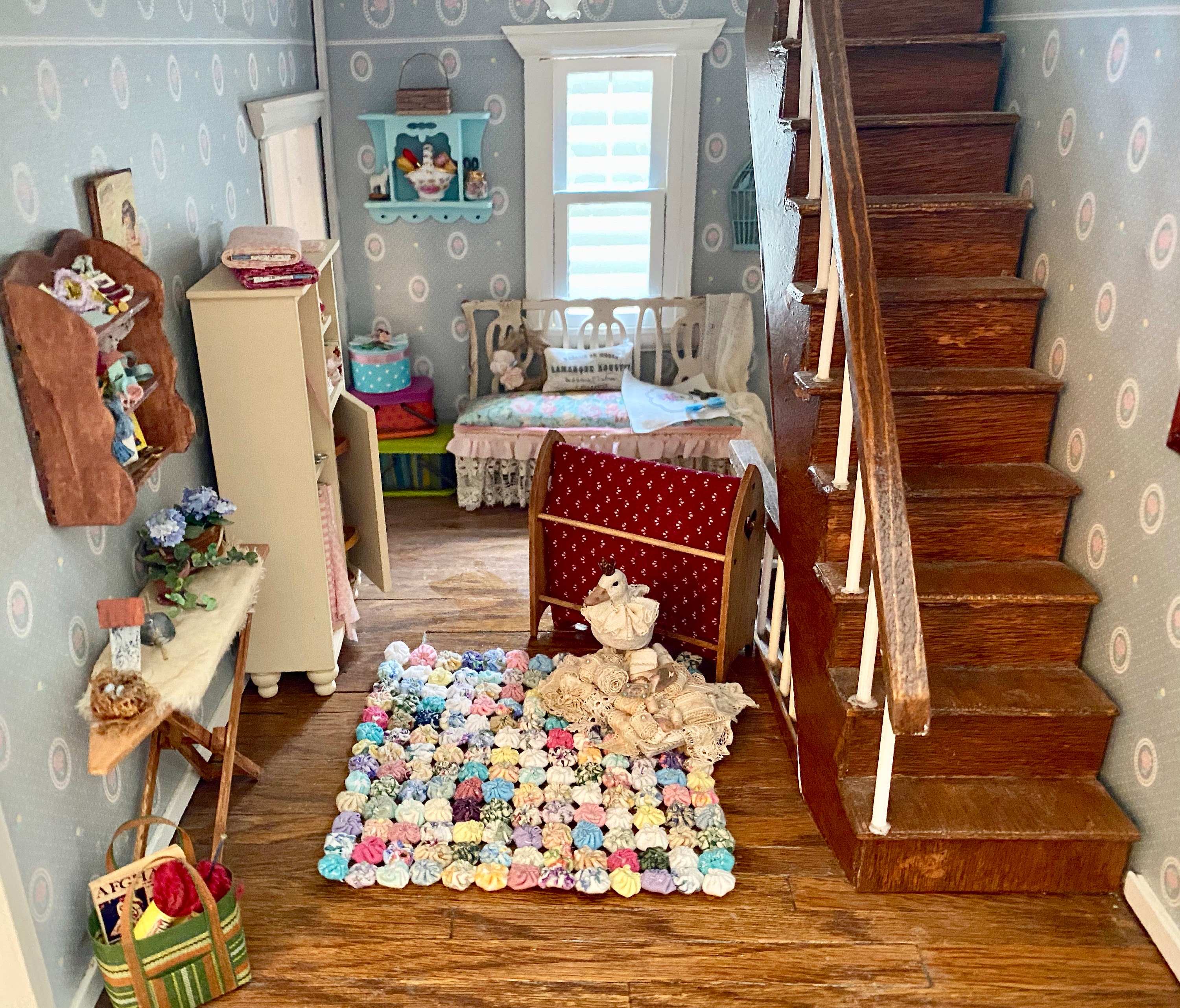 Another craft room, just like my real house, there had to be a place for crafting. See my pretty bench on the back wall, love it.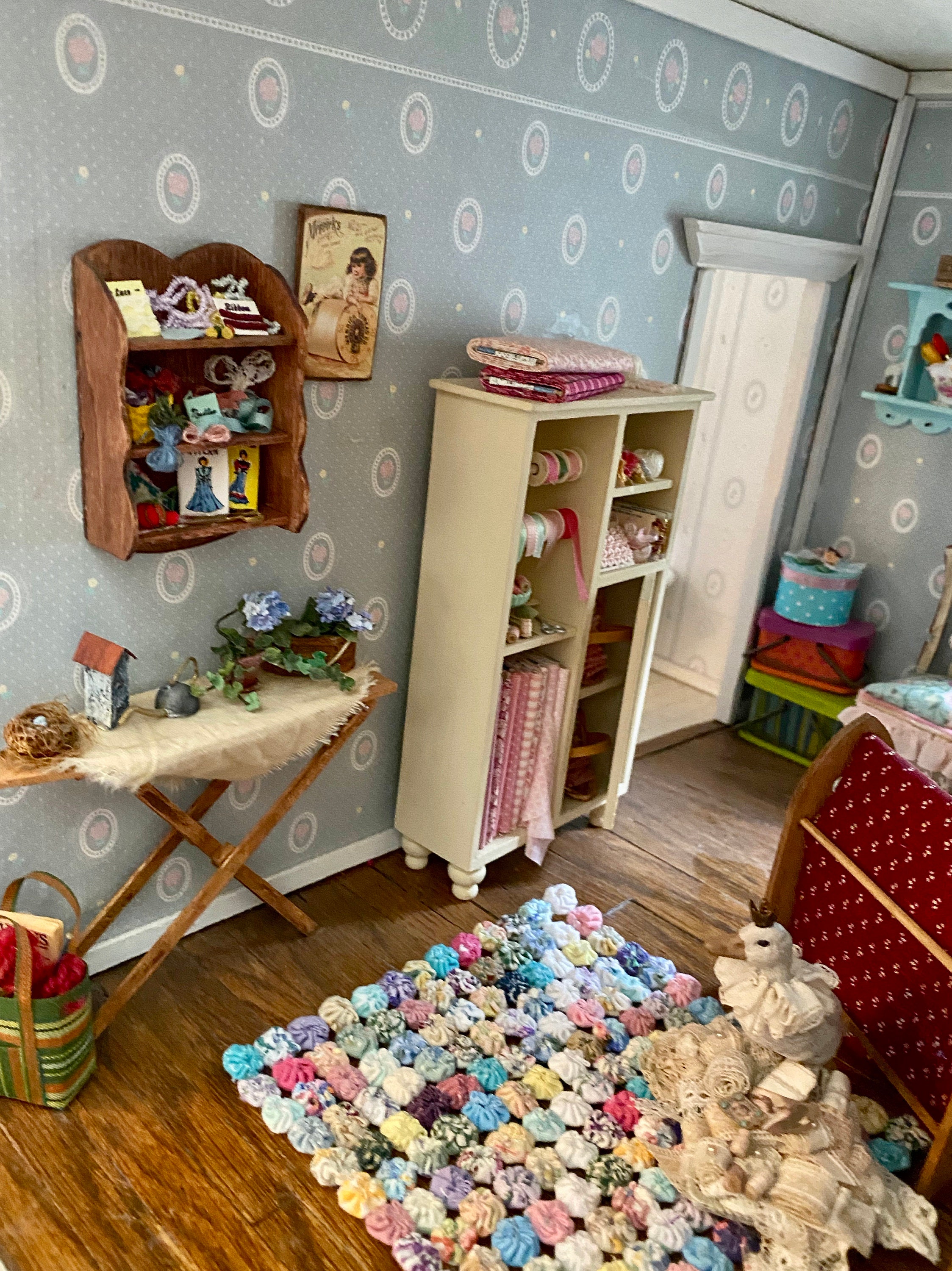 Another cabinet filled with tiny supplies, including ribbon and fabric bolts. The ironing board was purchased at a miniature show and of course there has to be some knittting or crochet around.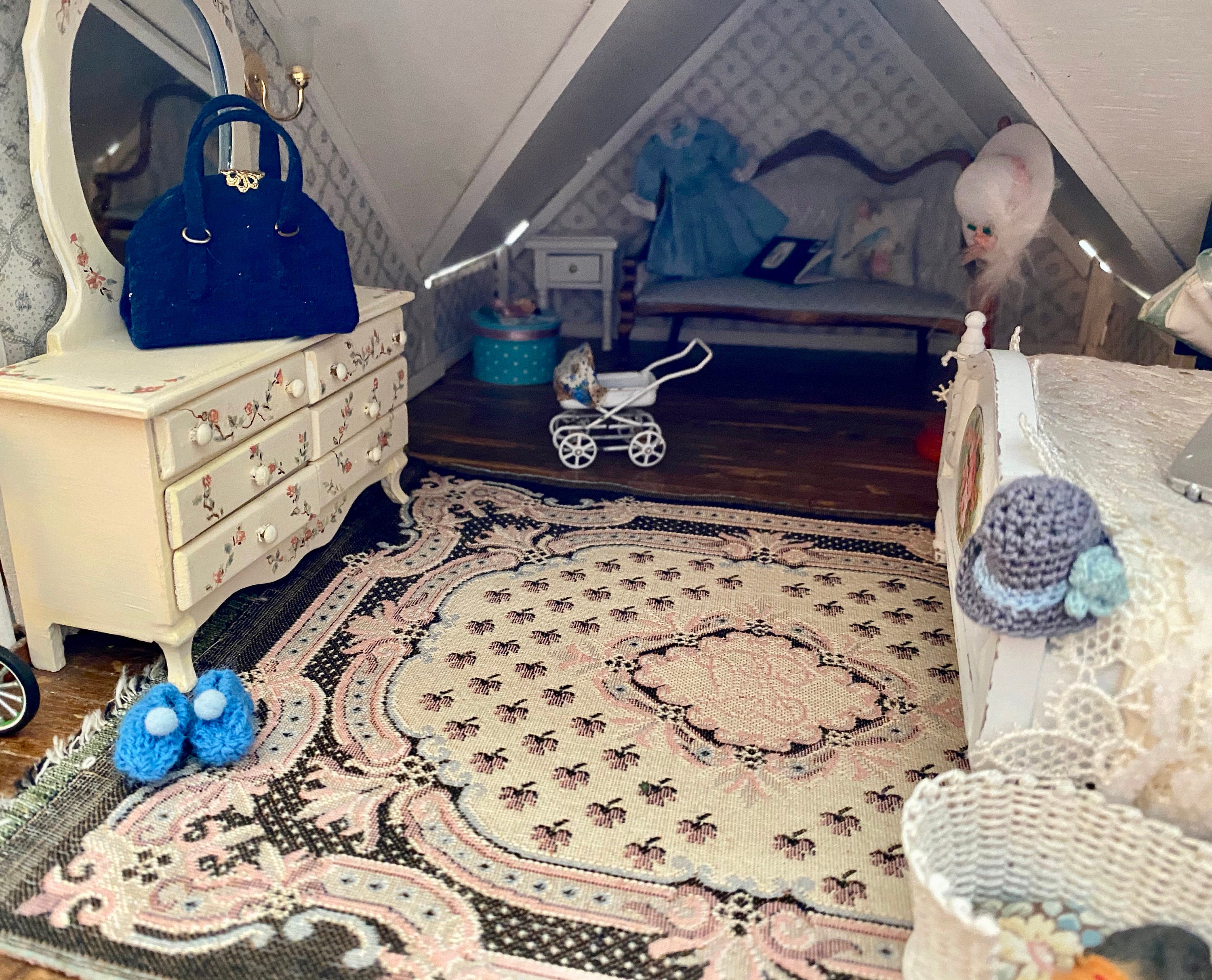 This bedrood holds another pretty hand painted bed, tiny crochet slippers and...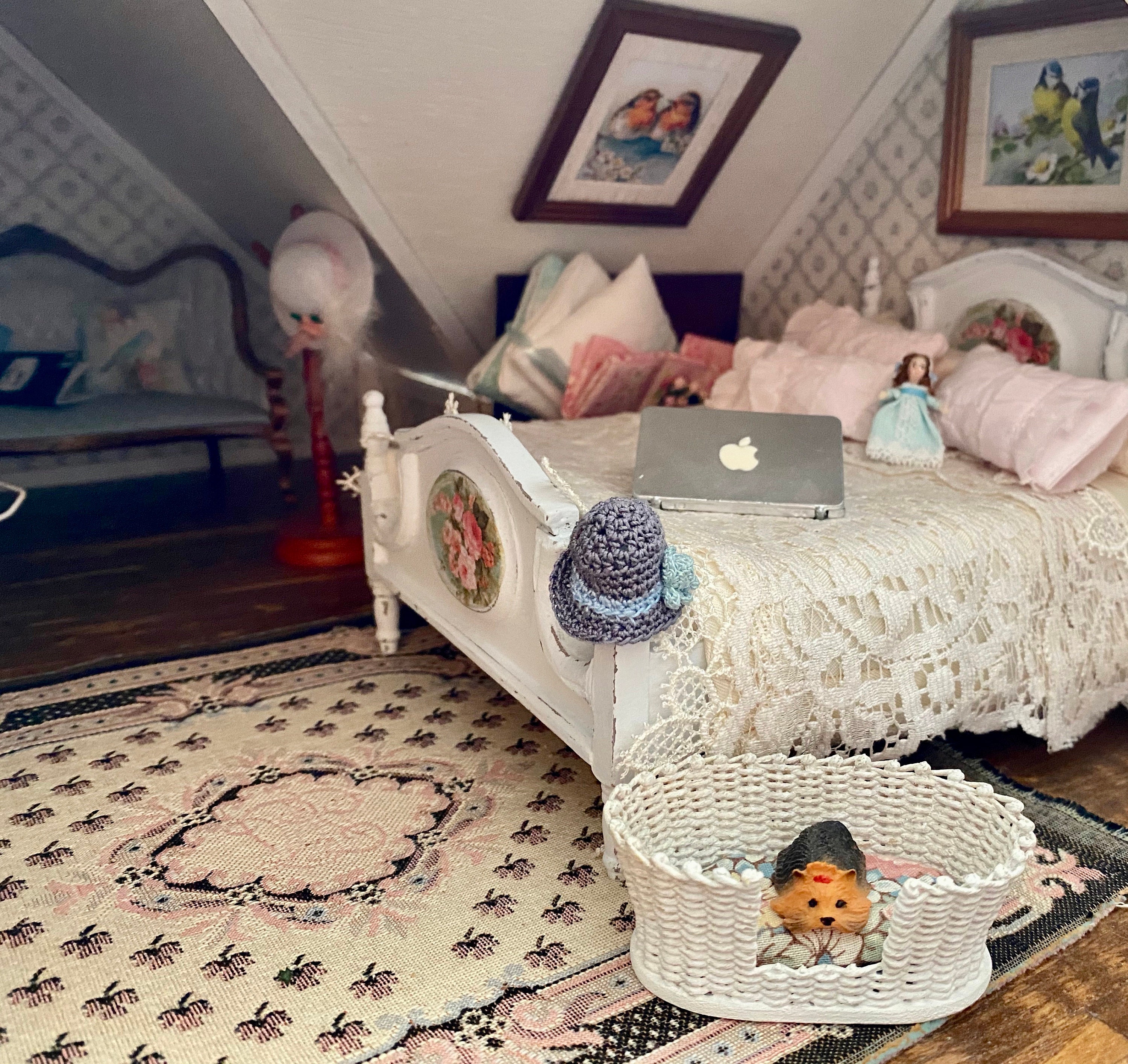 My Yorkie in his vintage wicker bed. I used to be able to offer these sweet Yorkies in the shop, but they have been out of stock for a while now. Fingers crossed they come back soon.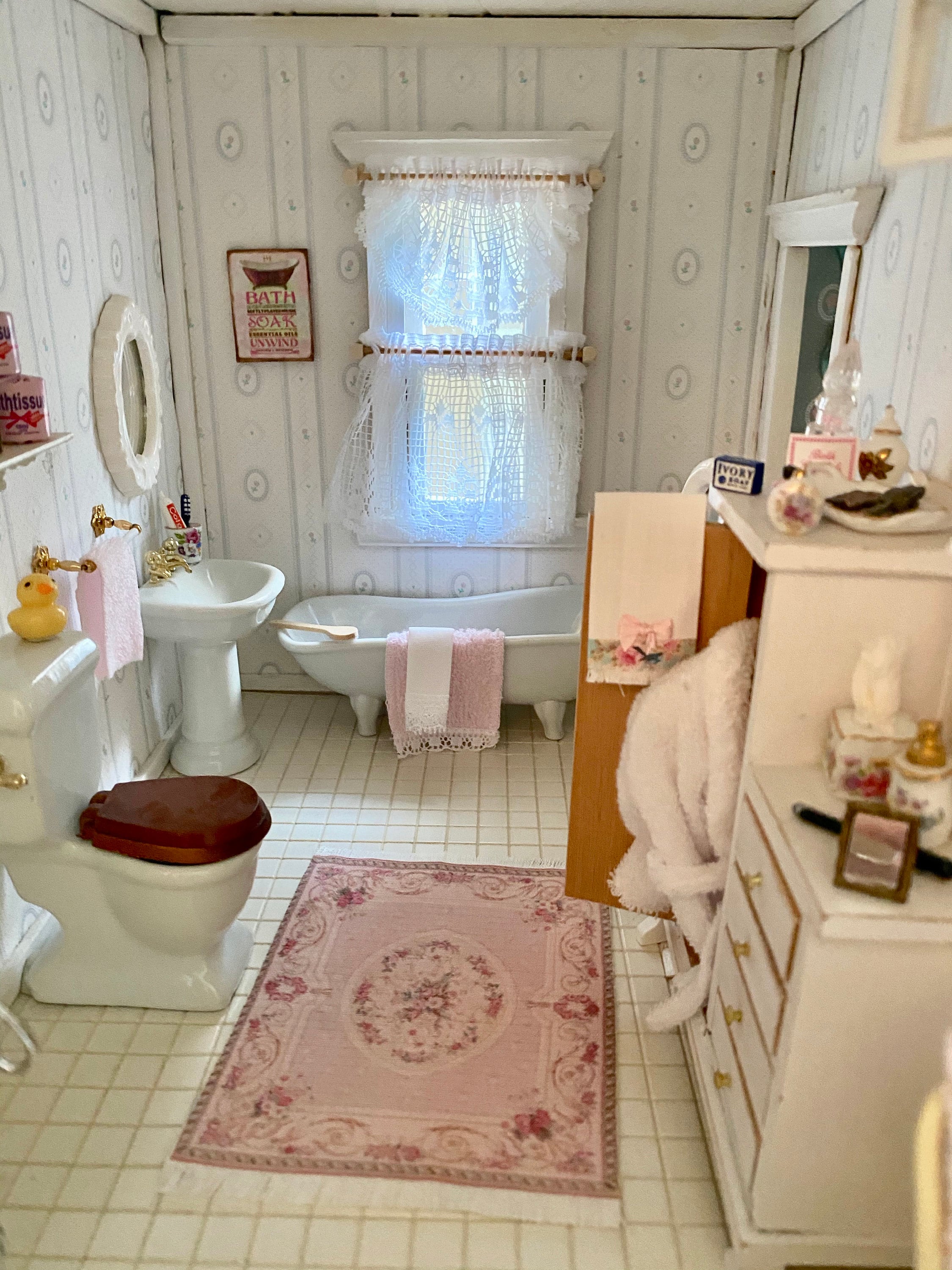 This bathroom is nice and big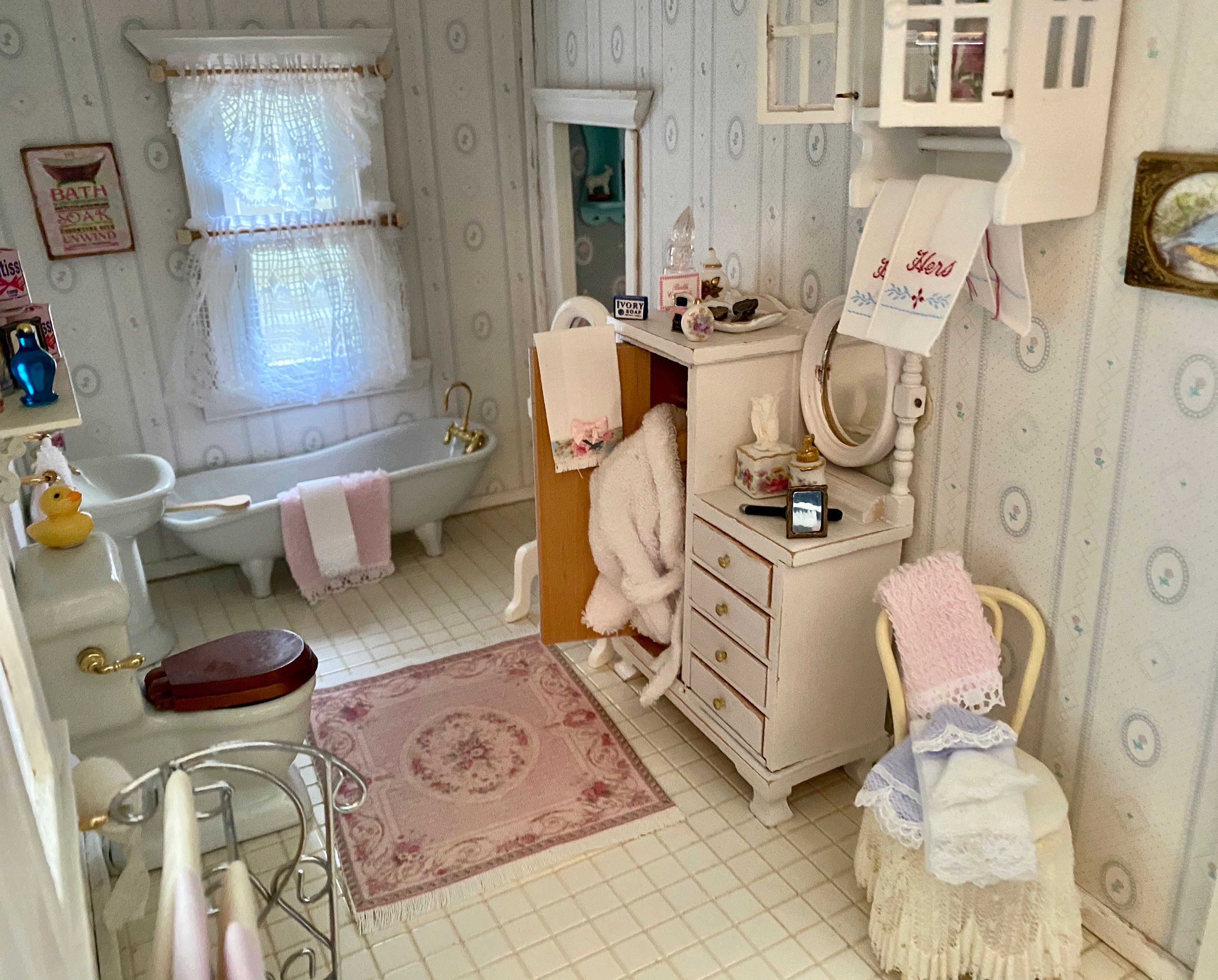 My favorite piece is the distressed mirrored cabinet. Yep, its filled with tiny bathroom related items. Also love the pretty lace trimmed chair in here.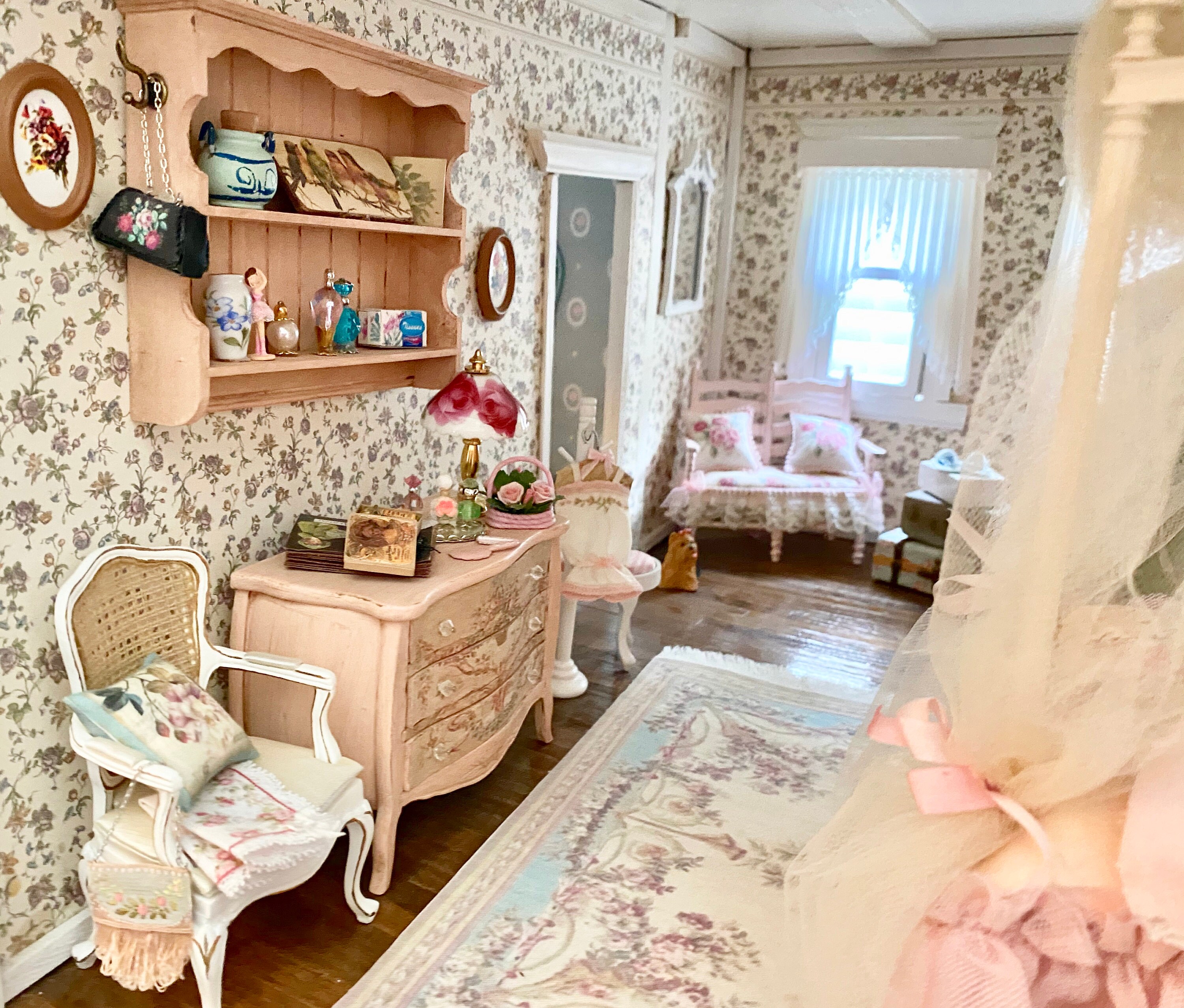 The master bedroom is large and even has a sitting area.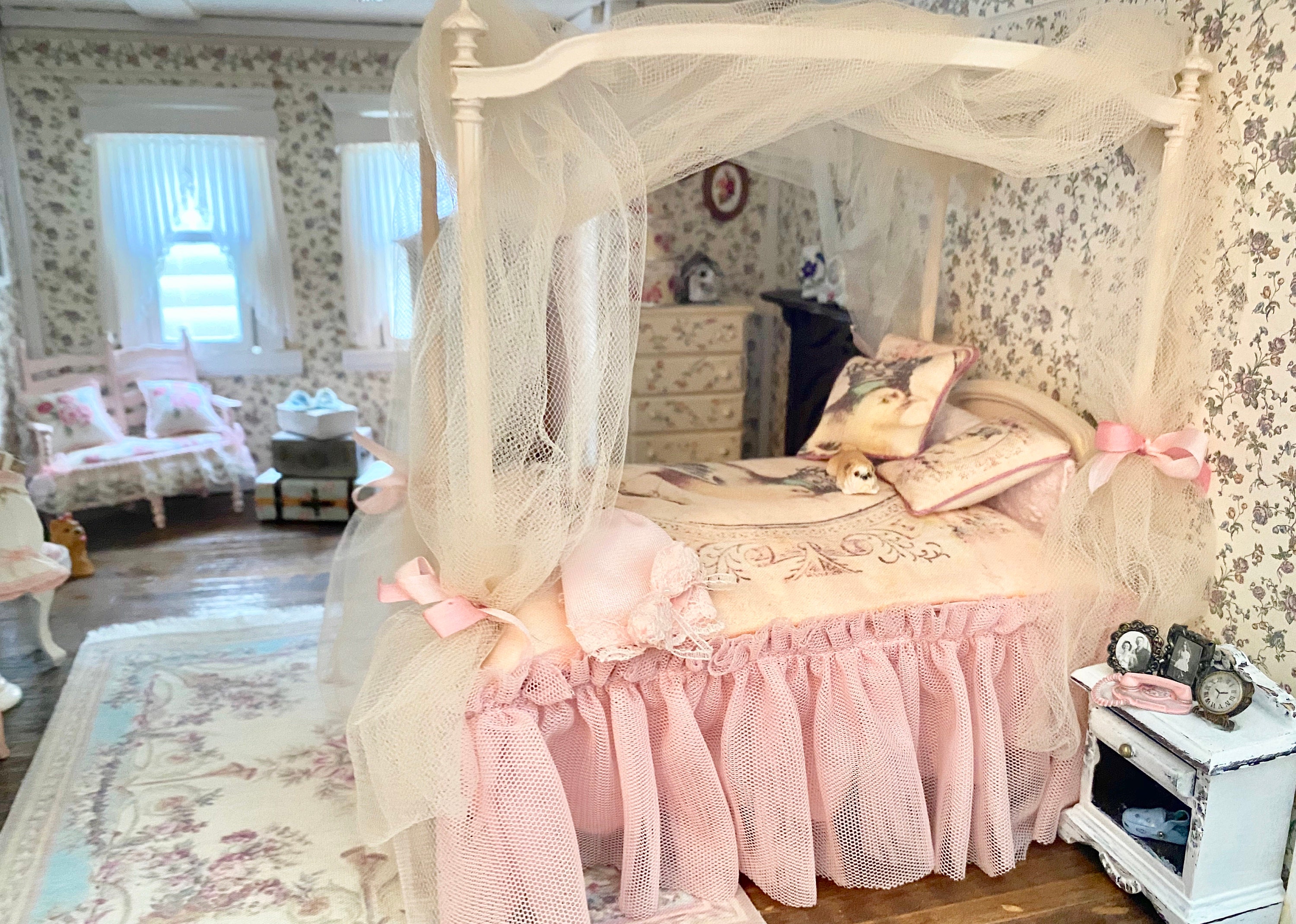 The pretty Pink bird bed was made for me by a miniature artist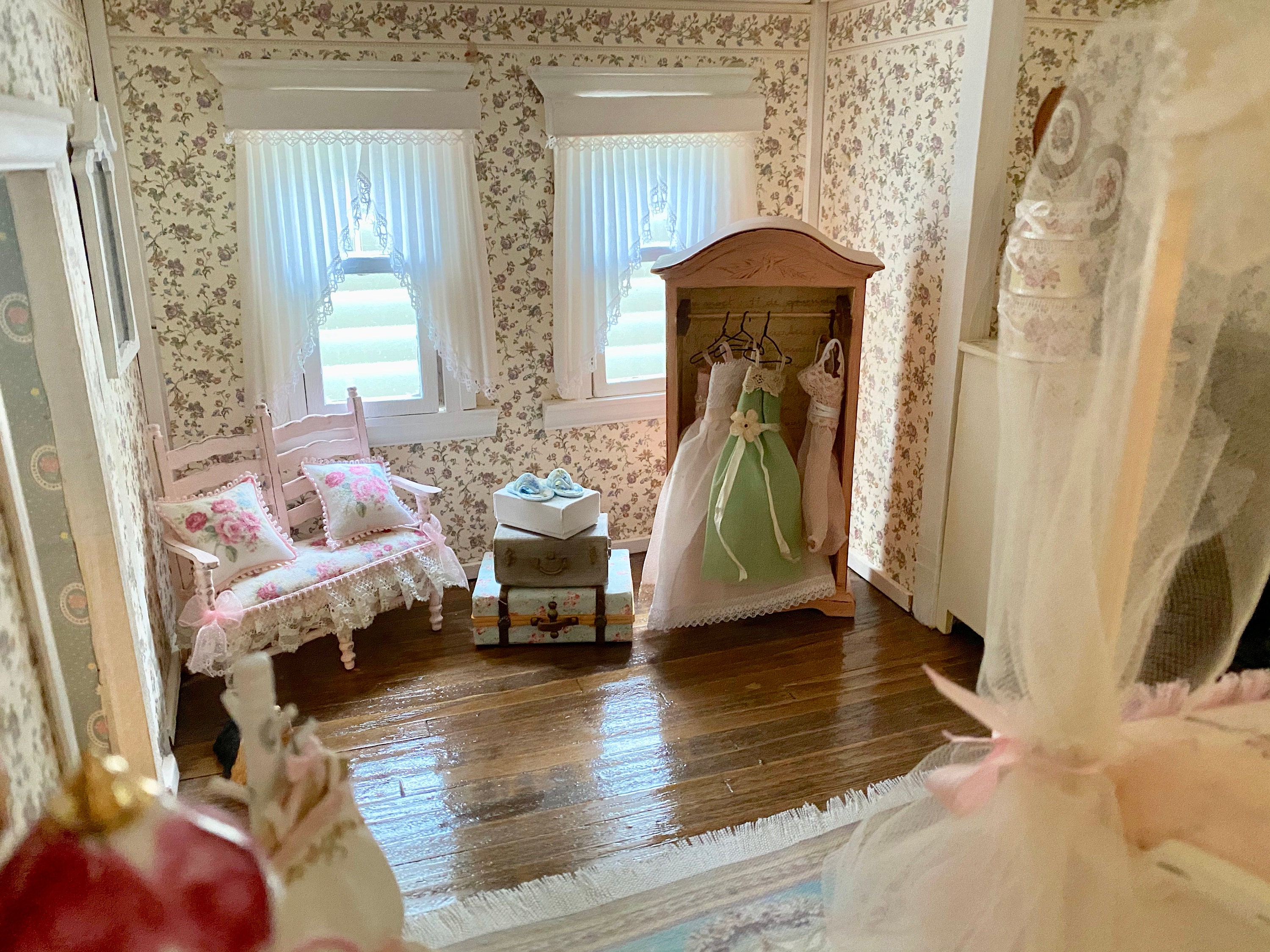 A lovely little space for morning coffee. Love the pretty painted wardrobe and sweet handmade dresses. 
Thanks for stopping by.